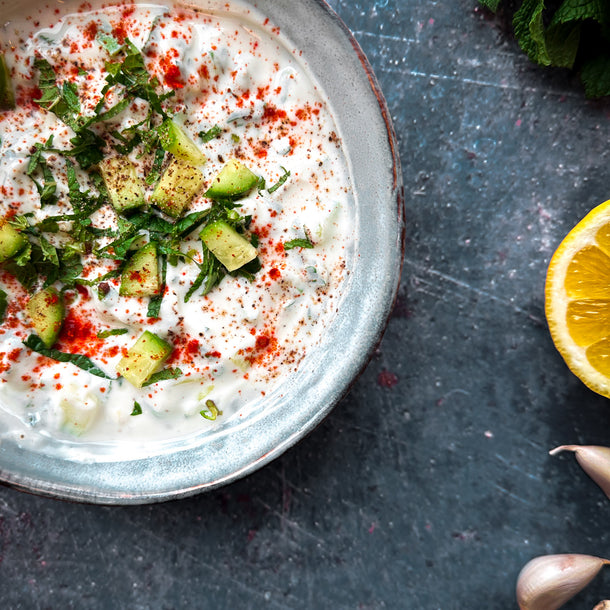 This is another dip that tastes way better homemade than anything you'll buy in the shops. I like to eat this with some warmed pitta for a super-fast lunch. It's also a perfect way to cool down some of the more fiery dishes you'll find on this website!
Enough for 4–6 as a dip or a side 
Ingredients 
250g (1¼ cups) Greek-style yoghurt 
1 medium cucumber, halved, seeded and coarsely grated
1 garlic clove, minced
2 Tbsp extra virgin olive oil 
½ tsp salt
¼ tsp black pepper
2 Tbsp finely chopped fresh mint leaves, plus extra leaves to serve 
Method 
Combine all your ingredients in a medium bowl, mix thoroughly and store in the fridge for 2–3 days. Add some extra fresh mint when you're ready to serve to fancy it up a bit. 
~~~~~~~~~~~~~~
What yogurt is used in tzatziki sauce?
Some chefs use Natural Yoghurt in their Tzatziki to give the dip more of a pouring consistency. There are no hard and fast rules and you should use your favourite, or what is available to you. Here we have used Greek Yoghurt, to keep things traditional. And, we always use full fat, because life is just too short not to, but, if you are watching your calories then you can go for a lower fat version. Likewise, if you are following a plant-based diet, then you can swap out the dairy yoghurt for a coconut yoghurt, which will be equally delicious. 
What can you serve tzatziki with?
Looking for some ideas for what to pair your lovely Tzatziki with? Look no further! 
Swap out your Greek Yoghurt in the Tzatziki for a lovely coconut yoghurt and pair with these gorgeous Vegan Kebabs for a veggie treat you'll enjoy time and again! 
Your cooling Tzatziki will provide the perfect balance to the fire of the harissa in these beautifully tender and rich lamb kebabs. 
For something a little different, swap out the cucumber raita in this Aloo Tikka Chaat recipe for your Tzatziki. 
Will you be giving this Easy Tzatziki recipe a try?
Tag us on social @spicekitchenuk