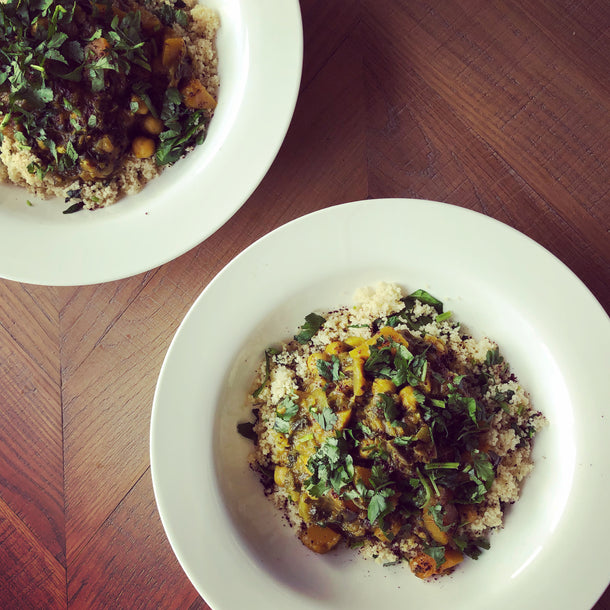 Spice Kitchen - Indian
Vegetarian aubergine and squash tagine
Serves 4
1 large onion, roughly sliced
2 cloves of garlic, peeled and finely chopped
1 tsp ground cumin
1/2 tsp tumeric
1 tsp ras el hanout
6 baby aubergines, halved (or 2 large ones, roughly chopped)
1 tin of plum tomatoes
1 tin of chickpeas
1 vegetable stock cube
1 butternut squash, diced
10 apricots, roughly chopped (optional)
To serve:
400g couscous
1 lemon, zest and juice of
handful spinach
handful of coriander, chopped
2 tbsps of natural yogurt
Place your pan on a medium heat and add a little oil. Add the onion, garlic,  and spices, and cook for 5-10 minutes, or until starting to soften.
Add the aubergines and squash continue cooking for another 10 minutes, stirring continuously to get all the spices and flavours into the aubergine.
Next, add the tomatoes, chickpeas and their water, the stock cube and the apricots if using them. Season with salt and pepper, give it a good stir, then place the lid on for 15 mins, or until thick and the aubergine is cooked through.
With a few minutes to go, cook the couscous according to the packet instructions, then add the zest, spinach and coriander and squeeze in the lemon juice. Serve next to the stew, with a dollop of yoghurt for some creaminess.