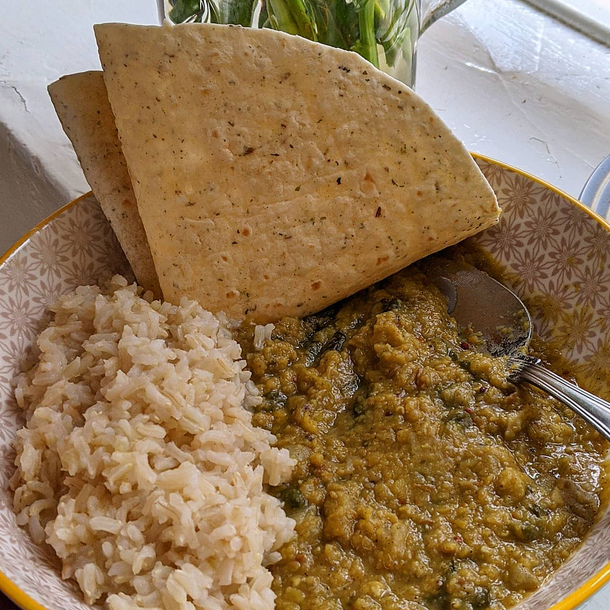 Super Nell - Indian
Vegan Dhal
This dhal was the first dish I made in my birthday pan from @lecreusetuk and with my Christmas spices from @spicekitchenuk so was v exciting! I made enough to feed our whole house, so good job everyone seemed to like it! 
Makes around 6 portions
INGREDIENTS
1 teaspoon black mustard seeds
2 teaspoons of cumin seeds
1 onion (finely chopped)
2cm piece of ginger (finely chopped)
3 garlic cloves (finely chopped)
1 tablespoon of tomato paste
500g of red lentils
Vegetable stock cube (ensure vegan)
1 teaspoon of ground turmeric
1 teaspoon of ground cinnamon
1 green chilli (finely chopped)
Juice of half a lemon
2 large handfuls of spinach
METHOD
Heat a tablespoon of oil in a large pan
Fry the mustard and cumin seeds until the mustard seeds begin to pop
Add the finely chopped onion, ginger, garlic and tomato paste and stir
Once the onion is cooked and translucent, add the red lentils and stir to combine
Pour over vegetable stock until the lentil mixture is only just covered
Add the turmeric and cinnamon and bring to a medium heat to allow the dhal to simmer
Add the finely chopped green chilli
Leave the dhal to simmer, stirring occasionally until the liquid is absorbed, adding more water if it becomes too thick. The longer you leave it to cook, the better as the flavours have more time to mingle.
Season with salt and pepper and squeeze over the juice of half a lemon
Add the spinach and cook for a little longer until the leaves are soft, wilted and combined with the dhal
Serve with rice and chapattis and enjoy!
(The dhal can also be frozen so it's a great recipe to batch cook!)
For more vegan inspiration, check out super Nell on @quarantinedinmykitchen!