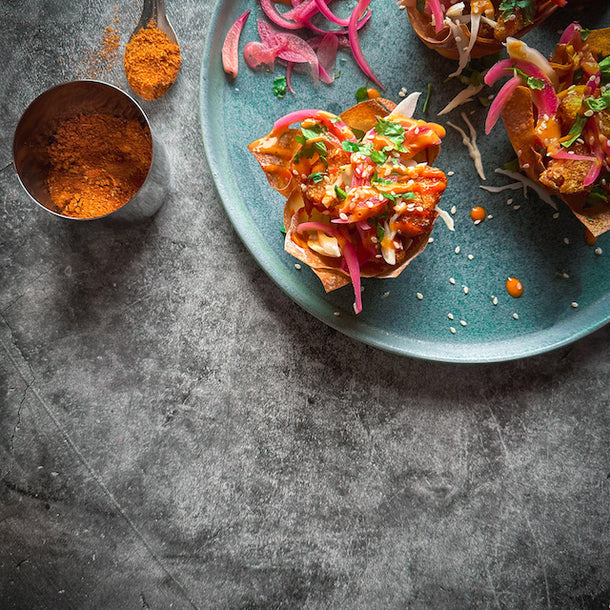 Ultimate Bang Bang Cauliflower Parcels with Harissa Pickled Onions
The cauliflower in this recipe is deep fried for delicious texture and crispiness, so it's not for the days when you're being 'good'. Here we've served it in filo pastry parcels to be extra fancy, but if you prefer, you can serve piled high on flatbreads. Whatever you choose, you are going to love this beautifully colourful and spicy dish. 
Serves 2 
Ingredients 
450ml sunflower or vegetable oil, for frying 
1 medium cauliflower, leaves removed, chopped into bite-sized pieces 
3 tbsp cornflour 
140g (around half a pack) shop bought filo pastry 
1 tsp butter at room temperature 
Onions 
1 onion, peeled and finely sliced into half moons 
50ml apple cider vinegar 
50ml red wine vinegar 
1 tbsp maple syrup or honey 
100ml water 
1/2 tsp Spice Kitchen Harissa Spice Blend (or chilli powder) 
1/2 tsp salt 
Sauce for batter 
1 tbsp maple syrup 
1 tsp garlic granules 
2 tbsp Sriracha (or your favourite hot sauce) 
4 tbsp mayonaise (use dairy free if that's your preference)
1 tsp soy sauce 
Juice of 1 lime 
1 tsp paprika 
1 tsp brown sugar 
To serve 
4 tbsp shop bought Sriracha Mayonnaise (or make your own dairy free version with hot sauce and plant based mayo) 
1/4 white cabbage, very finely shredded 
1/4 iceberg lettuce, very finely shredded 
2 tbsp fresh coriander, roughly chopped 
Method 
Preheat your oven to 180°C fan/200°C/Gas Mark 6. 
First, let's get your onions pickling. Add the two vinegars, water, honey, salt and Harissa into a saucepan and gently bring to the boil. Meanwhile, pack your sliced onions into a clean jar. Once your pickling liquid is bubbling, gently pour it over your onions, ensuring that all of the onions are covered in liquid. You can use a spoon or a fork to push them down. Secure with a lid, then allow the onions to come to room temperature. Once called, place in the fridge until you are ready to use. 
Next, make your batter. In a large mixing bowl, add all of the ingredients for the batter and stir or whisk to combine. Taste and add more sriracha if you prefer more spice. Then, add your cauliflower pieces and mix again, ensuring that the sauce coats the cauliflower evenly. Once you're happy, shake over the cornflour 1 tbsp at a time, stirring to coat evenly. Set aside. 
Now it's time to make your filo parcels. Get yourself a non-stick cake baking tray (the kind you use to bake muffins) and rub a little butter in each of the moulds to ensure your pastry doesn't stick. Lay out your filo pastry and cut into squares about 2cm larger on each side than the size of the individual baking tray rounds. Layer three of the filo sheets into the individual moulds, one at a time, pushing down into the edges as you go. 4 parcels each is going to be enough for 2 of you as a main, so keep going until you have made 8. Then, bake in the oven for about 5 minutes until golden. Remove and set aside. 
Next, get yourself a deep frying pan. Add the oil and heat on medium high until the oil is very hot. You can drop in a piece of cauliflower to test whether the oil is hot enough. If the cauliflower sizzles then you're good to go. Using tongs, add in half of the cauliflower and fry for 5-8 minutes, or until deeply golden and crispy. Once cooked, using a slatted spoon, carefully remove the cauliflower from the pan, and place onto a baking tray lined with fresh kitchen paper to absorb the oil. Repeat the process to cook the remaining cauliflower. 
While your cauliflower is cooking, very gently free your filo parcels from the baking tray, being careful not to break them. Arrange on a plate and then drizzle in some of the lovely sriracha mayonnaise into the bottom of the parcel. 
Divide the cauliflower between the parcels equally, and then pile high with your shredded cabbage and lettuce. Finish with some of your lovely spiced onions and some coriander for garnish and more sriracha mayo if you fancy. 
Will you be making this recipe? We'd love to see what you create! Tag us @spicekitchenuk