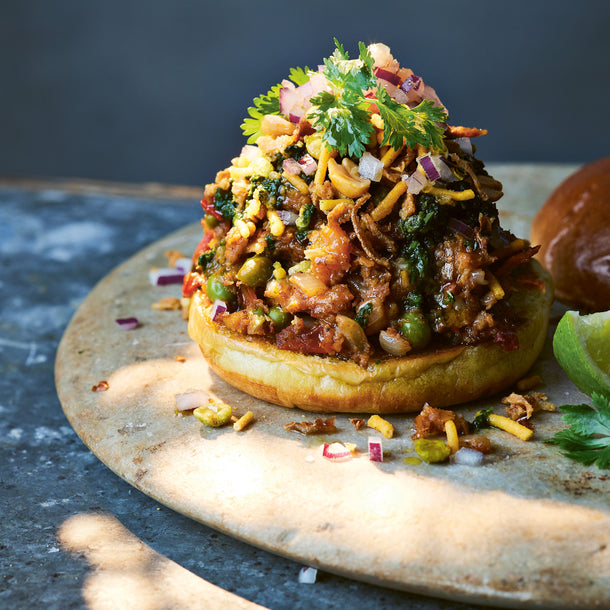 Indian
Street-style Pav Bhaji with a Soft Bread Roll
This is such an incredible street-food dish and the perfect way to bring the taste of Mumbai to your kitchen. It's humble, but, because it's served on a buttery toasted bun, it's really decadent and filling. Mum and dad literally arranged family holidays for us to Mumbai to go to the street seller and then eat Pav Bhaji on the beach, so this dish really does remind me of great family times. 
Ingredients 
1 potato, peeled
2 carrots, peeled
4 cauliflower florets
1⁄2 sweet potato, peeled
2 tbsp vegetable, sunflower or rapeseed oil
1 white onion, diced
2 tsp Ginger-Garlic Paste 
3 tomatoes, diced
1 tsp salt
2 tsp Sri Lankan Curry Powder
50g (13⁄4oz) frozen petits pois 
To serve 
2 soft white bread rolls
45g (3 tbsp) butter
Lime, for squeezing
1 tbsp freshly chopped coriander 
Optional toppings 
Crispy fried onions
Tamarind Chutney 
Mint and Coriander Chutney
1 red onion, finely diced
Bombay mix or sev
Freshly chopped green chillies (1 or 2 according to how hot you like it) 
Method 
Chop the potato, carrots, cauliflower and sweet potato into similarly sized chunks. Steam or boil until they are soft, then mash to form a smooth consistency. You might want to start the potatoes off first as they will take a little longer than the rest. 
Heat the oil in a large heavy-bottomed frying pan (skillet) over a medium heat. Fry the onion for about 5 minutes, then add the ginger-garlic paste. Cook for a minute, stirring regularly, then add the diced tomatoes, salt and Sri Lankan curry powder. Stir thoroughly and continue to cook over a medium heat for about 5 minutes to allow the flavours to combine. 
Add your veggie mash and petits pois and stir. Continue to fry for 10 minutes until your mixture looks like a dry paste. 
Meanwhile, slice the bread rolls in half. Heat another frying pan over a medium heat and add 1 teaspoon of the butter. 
Once it's melted, fry the rolls in the butter for a minute or so on each side, until lightly toasted but not burned. 
Add the remaining butter to the vegetable mash, stir and then serve the mash piled onto warm buttery buns with a squeeze of lime juice, a sprinkling of fresh coriander and your choice of toppings. Bliss.