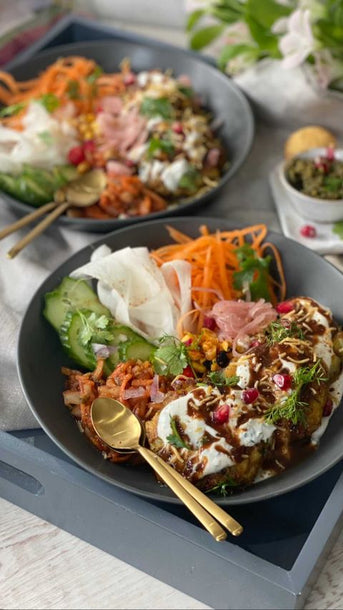 Hey Renu - Asian
Spicy Potato Cakes- Aloo Tiki Chaat
It's a favourite Indian street food dish of mine, with the flavours just partying in my mouth. I could eat this chaat bowl salad every day.
INGREDIENTS

1 packet Ayrshire potatoes steamed.

Half red onion finely chopped

Half green chilli chopped (optional)

Handful of fresh coriander

Spices; 1 tsp salt, cumin powder, chaat masala, coriander powder, garam masala.

1/2 tsp red chilli powder, tumeric

2 tbsp of rice flour (or use cornflour)
METHOD

Steam your peeled potatoes.

Mash with your hand to keep a chunky bite

Add the onion, spices, coriander powder and flour.

Mix well. With a wet hand divide the mixture and make equal size balls and create little patties.

Refrigerate for 30 minutes and gently fry in small batches until golden and crispy.

To assemble your salad bowl, Add some raita (yoghurt), ribboned moolie, cucumber, julienne carrots, masala corn, carrot chutney, fresh coriander, pickled onions, and lots of tamarind chutney
Love the look of this? Follow @hey_renu for more mouth watering dishes!