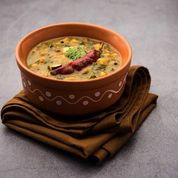 Spice Kitchen
Spiced Lentil, Spinach and Cumin Soup
Packed with hearty spices and a gentle hint of chilli, this vegetarian soup is a treat for your tastebuds.
INGREDIENTS
Paprika yoghurt
100g greek yoghurt
½ tsp salt
½ tsp paprika
Squeeze lemon
Soup
2 tbsp olive oil
2 tsp cumin seeds
1 small piece cassia bark
1 onion chopped
4 cloves garlic, chopped
1 tsp salt
1 carrot, peeled and diced
400g chopped tomatoes
½ tsp ground ginger
300g dried red lentils
½ tsp ground turmeric
½ tsp chilli powder
2 bay leaves
800ml vegetable stock
200g fresh baby spinach leaves
METHOD
Rinse your lentils thoroughly in cold water according to the packet instructions.
To make the paprika yoghurt, whisk all the ingredients for the yoghurt and keep asidefor later.
Heat the oil in a pan and add the cumin seeds and cassia bark. Once they start to sizzle, add the onions and garlic and a good pinch of salt.
Cook for 10 minutes until the onions have caramelised. Add the carrot, chopped tomatoes, lentils, turmeric, chilli powder, bay leaves and vegetable stock, along with the ground ginger.Bring to the boil, then reduce to a simmer.
Cook for 30-40 minutes until the lentils have cooked completely. Check the soup for seasoning and add more salt if necessary.
Just before serving, stir in the baby spinach leaves.
Enjoy with a good dollop of your lovely paprika yoghurt, and some pitta on the side.