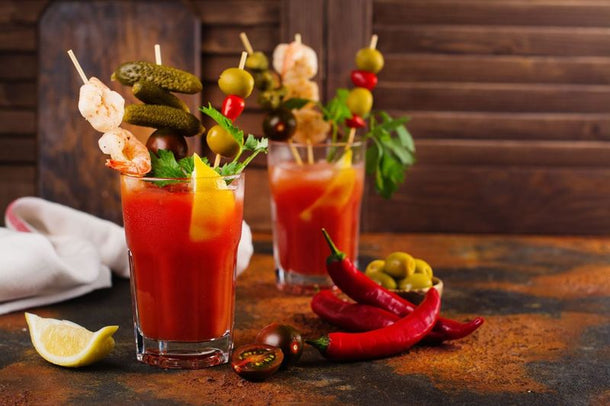 Spice Kitchen
Spice Kitchen Bloody Mary
The ultimate Bloody Mary! Cure a hangover, get a dose of vitamin C and one of your five a day all in one glass.
INGREDIENTS
100ml vodka
500ml tomato juice
1 tbsp lemon juice
Worcestershire sauce
Sea salt 
Cracked black pepper 
Celery sticks to serve
Tabasco or your favourite hot sauce
METHOD
Here at Spice Kitchen, we invite you to get creative with your Bloody Mary!
So mix it up with the flavours in your tin, and if you are in a spicy or citrus mood, mix and match the ingredients to create your own unique tipple.
Mix the vodka, tomato juice and lemon juice. Add a few dashes of Worcestershire sauce and a large pinch of sea salt and a large pinch of black pepper.
Add a few splashes of tabasco or your favourite hot sauce to get your desired spiciness.
Half fill two (or three) tall glasses with ice and pour the Bloody Mary over.
Garnish with a celery stick for a more traditional finish, or get adventurous like we did and add gherkins, prawns, parsley, olives, chilli and a wedge of lemon!