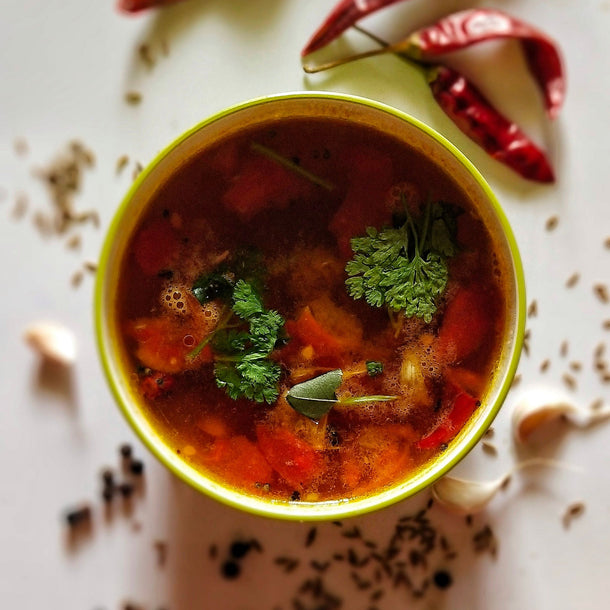 Spice Kitchen - Asian
South Indian Rasam
A Mama Spice favourite. Rasam is a basic staple dish that's both spicy and sour. We love it ladled into bowls as a warming soup on a chilly day.
INGREDIENTS
1 tbsp cumin seeds
2 tsp black Kampot pepper
3 cloves garlic, minced
3 tbsp coriander stem, chopped
2 tbsp vegetable oil
1 tsp mustard seeds, black
1 dried red chilli
10 curry leaves
2 tomatoes, chopped
1⁄4 tsp turmeric
1 tsp salt
150ml tamarind puree
600ml water
2 tbsp fresh coriander, finely chopped
METHOD
Without adding any water, grind the cumin seeds, black Kampot pepper, garlic and coriander stem into as fine a paste as possible.
Heat a large saucepan and add the vegetable oil.
Add the mustard seeds, curry leaves and dried red chilli and let them crackle and sizzle for a few moments. Add the spice and coriander paste and sauté the mix for a couple of minutes before adding the tomato, turmeric and salt.
Cook on low heat until the tomatoes have softened and broken down. Add the tamarind and water and bring to a boil and simmer for 10-15 minutes.
Add the chopped coriander and serve as a soup or eat with rice.