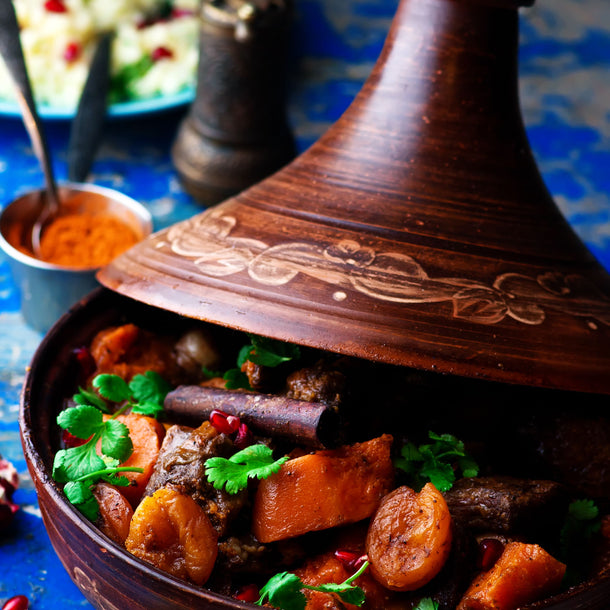 Sanjay Aggarwal - Asian
Sanjay's Spiced Lamb Tagine
This much-loved stew is a favourite in Sanjay's home. The slow-cooked lamb literally melts in your mouth. Be sure to follow the guidelines and marinate overnight. Trust is; it's worth it.
INGREDIENTS
3 tbsp olive oil
2 pieces cassia bark
3 tsp ground cumin
2 tsp ground turmeric
1 tbsp smoked paprika
1 tsp chilli powder
800g lamb shoulder, diced
6 cloves garlic, crushed
150g dried apricots
Large pinch saffron
600ml chicken stock (or water)
2 onions, roughly chopped
2 x tins chopped tomato (400g each)
1 tbsp honey
Few sprigs thyme
1tsp olive oil
To serve
50g chopped coriander
1 bunch mint, leaves only
2 tso salt
METHOD
Grind the cassia pieces to a fine powder using a pestle and mortar.
In a bowl mix the olive oil and half the dry spices, along with two cloves of crushed garlic.
Massage into the lamb and leave in the fridge overnight. Set your oven to 160°c fan.
Heat a heavy frying pan until smoking hot, then drizzle in your oil. Carefully add marinated lamb and brown all over. Transfer to a heavy oven casserole dish and add the apricots, saffron, stock, onions, tomatoes, honey, thyme and the remaining spices.
Cook with a lid on for 2-3 hours, until the lamb is falling apart.
Once cooked, remove from the oven and check the consistency of the sauce. If it's too watery, remove the lamb and reduce the sauce on the hob until it has thickened.
Serve garnished with chopped coriander, mint and a nice heap of couscous.