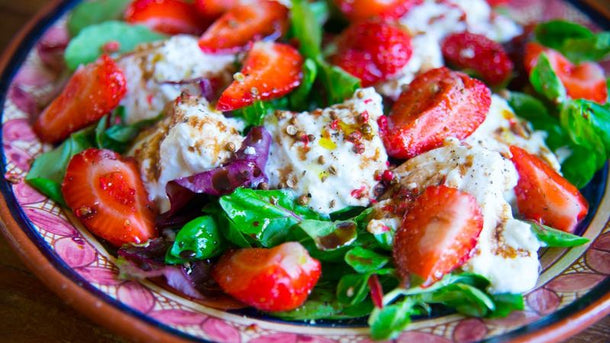 Spice Kitchen - European
Salad of Strawberries and Balsamic
The strawberry and balsamic combination bursts with flavour. Beautifully colourful,healthy and so very delicious.
INGREDIENTS
1 punnet strawberries, cut into halves
100ml balsamic vinegar
2 tsp caster sugar
1 tbsp red Kampot pepper, crushed
1 tsp coriander seeds
1 whole burrata
100g mixed salad leaves, preferably rocket, watercress & pea shoots Drizzle of extra virgin olive oil (optional)
METHOD
In a small saucepan, add the balsamic and sugar, and cook until reduced by half. Set aside.
Wash and dry the salad leaves.
Toast the coriander seeds in a pan and when cool, lightly crush to split the seeds.
TO SERVE
Arrange the salad leaves on your plates.
In a bowl, add the sliced strawberries, red Kampot pepper and coriander seeds, along with a pinch of salt and sugar.
Tear the burrata and throw over the salad leaves. Spoon on the strawberries, and then drizzle on the balsamic reduction. Finish with a little extra virgin olive oil.
Serve with a slice of toasted sourdough or enjoy on its own with an icy cold glass of white wine.