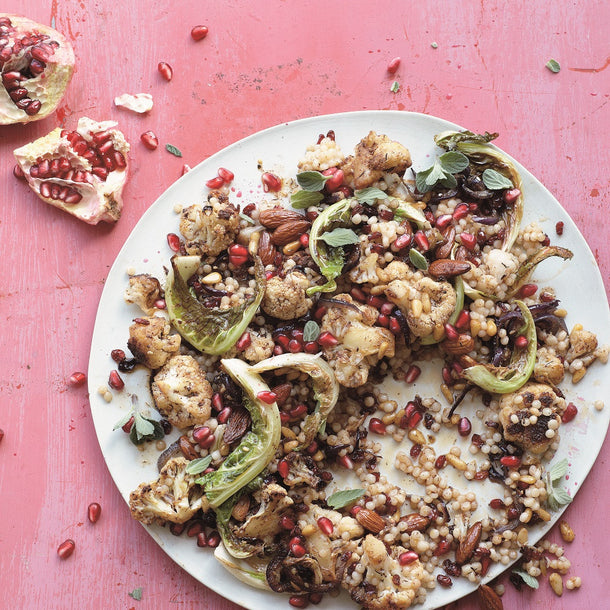 Emma Spitzer - Middle Eastern
Pan-fried Cauliflower with Caramelized Red Onions, Toasted Israeli Couscous and Almonds by Emma Spitzer
A wonderful recipe from Masterchef finalist Emma Spitzer, who has released her debut cookbook Fress this month. You can purchase a signed cookbook with spices here! 
Serves 6
80ml olive oil
1 large red onion, thinly sliced into half-moons
2 tablespoons soft dark brown sugar
2 tablespoons balsamic vinegar
1 large or 2 small cauliflowers, cut into large florets, any small leaves retained
150g toasted Israeli couscous (or substitute fregola if you can't find it)
500ml hot chicken or vegetable stock
40g butter, cut into pieces
2–3 tablespoons Za'atar 
1 tablespoon Lebanese 7-spice Mix
100g raw unblanched almonds
50g pine nuts, lightly toasted
2 large handfuls of dried barberries
sea salt and freshly ground black pepper
To garnish
generous sprinkling of pomegranate seeds
a few oregano leaves
Heat 2 tablespoons of the oil in a frying pan, add the onion and gently fry for 10–15 minutes with a pinch of salt until caramelized, stirring occasionally. Add the sugar and vinegar and cook for 5–10 minutes more until slightly sticky.
Meanwhile, blanch the cauliflower and its leaves in a large saucepan of salted boiling water for 3–4 minutes. Drain and leave to steam dry in a colander.
Heat a tablespoon of the remaining oil in a saucepan over a medium heat, add the couscous and stir to coat. Fry for around 2–3 minutes, then cover with the hot stock and add a pinch of salt. Bring to the boil, then cover and simmer for around 8–10 minutes. Drain off any liquid and set aside.
Heat the remaining oil in a frying pan over a medium heat, add the cauliflower and fry, turning occasionally, for 10 minutes or until golden and cooked through. Drain off any oil from the pan and set the cauliflower aside.
Place the pan back on the heat and add the butter, za'atar and Lebanese spice mix. Stir until the butter has melted, then add the cauliflower back in and baste until it is well coated. Throw in the almonds, pine nuts and barberries and stir everything in the pan until it has all heated through.
Transfer the cauliflower mixture to a large bowl and mix through the couscous and the cooked red onion. Season with some sea salt and black pepper, and garnish with the pomegranate seeds and oregano leaves.
The dish can be served hot or at room temperature.
Tip
The couscous and onion can be made up to 24 hours ahead and the cauliflower blanched in advance, so don't worry about having to tackle all the elements at the same time.