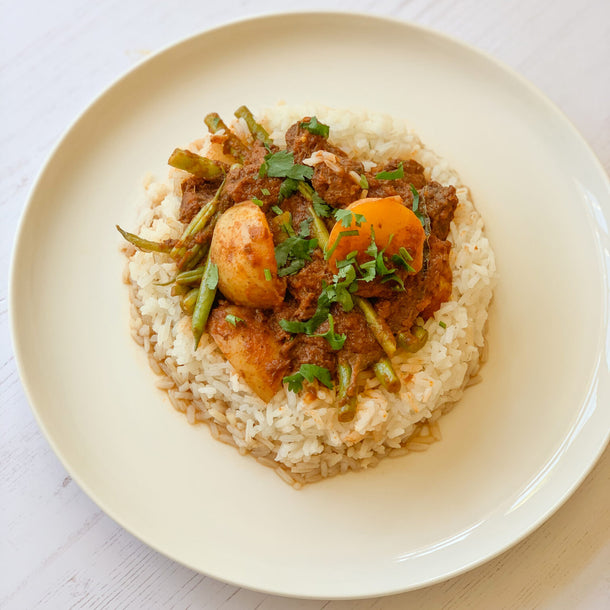 Ney's Kitchen - Caribbean
Trinidadian Beef Stew
Spice up your life with this delicious stew from the Caribbean.
INGREDIENTS
For the beef seasoning
1 tsp. ground cumin
½ tsp. salt
1 tsp. pepper
1 tbsp. olive oil or regular cooking oil
400g stewing beef, cut into chunks
For the paste
2 tbsp. vegetable oil
1 large onion, roughly chopped
2 oz. peeled ginger, roughly chopped
3 garlic cloves, roughly chopped
1 scotch bonnet pepper, deseeded and chopped 
Juice of ½ lemon
For the stew
2 tbsp. vegetable oil
2 ½ tbsp. garam masala
1 tsp. dried thyme 
½ tsp. cayenne pepper (optional)
1 can chopped tomatoes
8 curry leaves or 3 bay leaves
12 fl. oz. water
8 oz. Charlotte potatoes, chopped in halves
6 oz. string beans, cut into half
To serve
A handful of freshly chopped parsley to serve
Cooked rice and roti (optional)
METHOD
In a bowl, gently rub the seasoning into the beef chunks. Cover and set aside.
Start to make the paste. In a large cooking pot over a medium heat, heat the oil and then add the onions. Cook until soft and translucent. Next add the ginger, garlic cloves, scotch bonnet and lime juice. Cook until for a further 4 minutes. Remove from the heat and carefully transfer the cooked ingredients into a food blender. Pulse until it forms a purée.
Next, move on to making the stew. Place the same pot over a medium-high heat. Add the oil. Once the oil is heated, add the garam masala and cook for a minute or until fragrant. Next add the thyme and cayenne pepper. Increase the heat to high and add the beef chunks. Cook and stir the beef until brown for about 5 minutes. 
Reduce the heat to medium. Stir in the tinned tomatoes, curry leaves and 6 fl. oz. water. Cook for 10 minutes.
Reduce the heat to a simmer, place the lid on the pot and continue to cook for 1 ½ hours. Stir every half hour.
Add the potatoes and the remaining water to the stew. Stir gently and cook with the lid on for a further 30 minutes. (Add a little more water if necessary to ensure the potatoes are cooked through)
Stir in the string beans and cook for another 6 minutes with the lid on.
Serve hot with rice and/or roti.
For more INCREDIBLE recipes from lovely Ney check out her instagram on @neyskitchen.official