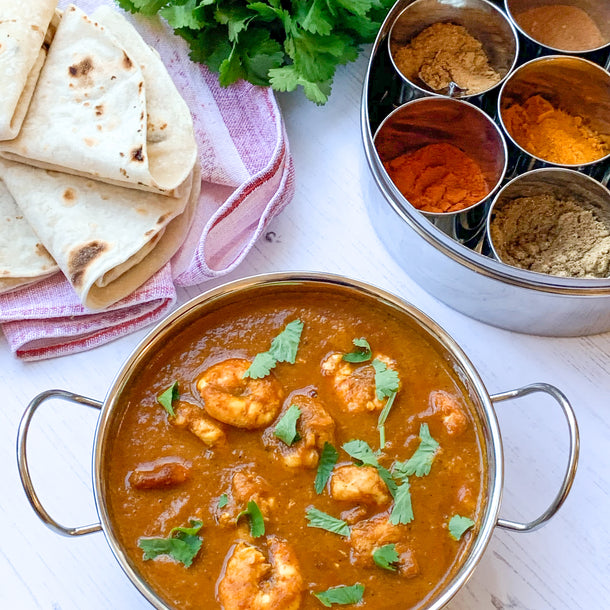 Ney's Kitchen - Middle Eastern
Ney's Kitchen- Sri Lankan Fish Curry
"Not a fan of seafood? I bet I can change your mind with this curry.
I'd recently been given a beautiful 'World Spice Tin' by this family-run business founded by a mother-and-son team, Sashi and Sanjay Agarwal, and I got inspired to try something new with their Sri Lankan Spice mix and unique Garam Masala blend. With the spices all ground by hand in the traditional manner, they had all the ingredients I needed to make an authentic curry that was tastier and more fragrant than any curry I've made at home before!
The spices from the supermarket don't even come close; I find they lack depth of flavour, and that makes me use more than a recipe suggests. With Spice Kitchen's ingredients, I was able to use a moderate amount whilst still getting the full flavour in every bite".

INGREDIENTS FOR MARINADE
1 large piece of ginger, peeled and grated
3 garlic cloves, minced
1 bird's eye chilli, chopped
1 lemon, juiced
10 oz. monkfish chunks
6 oz. raw prawns, shelled
½ tsp. Sri Lankan spice (by

 

Spice Kitchen

)
½ tsp. paprika
½ tsp. ground turmeric
½ tsp. salt
¼ tsp. ground black pepper
INGREDIENTS FOR SAUCE
2-3 tbsp. coconut oil (or vegetable oil)
1 red onion, finely chopped
2 tsp. Sri Lankan spice (by

 

Spice Kitchen

)
1 tsp. Garam Masala (by

 

Spice Kitchen

)
1 tsp. ground cinnamon
1 tsp. paprika
¼ tsp. chilli powder or to taste
1 ½ tbsp. tomato purée
¼ pt. coconut milk
1 pt. water, plus extra if necessary
Salt to taste
6 curry leaves
METHOD
Place the grated ginger, garlic, chilli and lemon juice in a food blender. Blend until you have a paste.
Next, place the monkfish and prawns into a mixing bowl then add half of the garlic-ginger paste along with the rest of the marinade ingredients. Gently mix together, cover and set aside.
Start on the curry sauce. Place a medium-large pan over a medium heat. Add 2 tbsp. oil and once it's heated, add the red onions and cook them until they soften. Next, stir in the remaining garlic-ginger paste. Add a little more oil if onion garlic ginger mix starts sticking to the pan.
Next add the spices and stir until fragrant, then thoroughly mix in the tomato purée.
Once everything has been mixed well, stir in the coconut milk followed by ½ pt. water to begin with. Check the seasoning by adding salt to taste. Reduce the heat to low, cover the pan with a lid then leave to simmer for 15 minutes.
After 15 minutes, remove the lid from the pan and give it a good stir.
Carefully transfer the sauce into a food blender. Ensure the lid is on tight then blend until you have a smooth paste. (This step is not strictly necessary. You can skip this process if you're not fussed about bits of onion or ginger in your sauce).
Transfer the paste back into the pan. Add a little more water until you reach a desired consistency. I added roughly the remaining ½ pt. water. Stir in the curry leaves and simmer the sauce on a low heat (with the lid on) for a further 15-20 minutes for the flavours to intensify.
Increase the heat to about low-medium. Gently arrange the monkfish and prawns in the sauce. Place the lid on top and poach the seafood for about 3 minutes, then gently turn the fish over and cook for another 3 minutes.
Once thoroughly cooked, serve hot with rice and roti. Enjoy!
For more INCREDIBLE recipes from lovely Ney check out her instagram on @neyskitchen.official