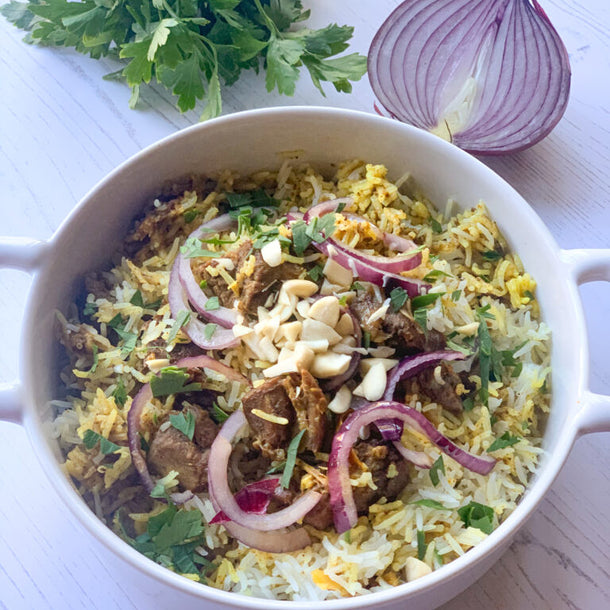 Ney's Kitchen - Asian
Lamb Biriyani
"Lamb biriyani is fragrant, mixed rice dish that's made with aromatic spices and tender lamb meat that simply melts in your mouth. 
My Mauritian grandma loved cooking, and one of the dishes she used to make often and was extremely good at was biriyani. She would make it with lamb, chicken and even beef. I have recreated my nan's lamb biriyani recipe for you to also enjoy."
INGREDIENTS
For the marinade
1 lb. 12 oz. lamb neck or shoulder, cut into chunks (ask the butcher for the bone if possible)
1 tbsp. garam masala
1 tsp. ground cumin
1 ½ tsp. salt
½ tsp. ground black pepper
1 tsp. ground cinnamon
1 tsp. ground coriander
1 tsp. chilli powder
2 garlic cloves, minced
3 heaped tbsp. plain yoghurt
For the stew
Olive oil, for cooking
1 large onion, finely chopped
1 lemon, juiced
8-10 fl. oz. hot water
1 large piece ginger, finely chopped
2 garlic cloves, minced
1 tsp. garam masala
1 tsp. ground cumin
1 tsp. chilli powder
1 tsp. turmeric
Salt, to taste
For the rice
1 lb 2 oz. basmati rice, rinsed and drained
6 cardamom pods, slightly crushed
½ tsp. salt
To garnish (optional)
1 tbsp. olive oil
1 red onion, halved and sliced
Salt, to taste
Fresh coriander, chopped
Blanched almonds, chopped
METHOD
To make the marinade, gently massage all the ingredients into the lamb meat until fully coated. Cover and set aside for a minimum of 30 minutes, or leave in the fridge overnight remembering to bring it back to room temperature before cooking.
In a large frying pan, add 2 tbsp. olive oil and place over a medium-high heat. Start to brown the chunks of meat all over. You may need to do this in batches to not overcrowd the pan., adding a little more oil if necessary. Simply places the browned meat into another dish. Once all the meat is cooked, set aside.
In the same pan (over a medium-high hear), add another 2 tbsp. oil. Add the onions and cook for about 1 minute, then add the lemon juice and 2 fl. oz hot water to help deglaze the pan. Continue to cook and stir until most of liquid has evaporated. Next add the remaining ingredients. Cook and stir until fragrant. 
Add the meat and the rest of the water. Stir well, scraping the bottom of the pan so nothing sticks. Bring to a boil and then reduce the heat to a simmer. Cover and leave to cook for 2-3 hours or until the meat is tender. Check and stir every 30-45 minutes, adding more water if necessary. Towards the end of the cooking process add more salt to taste.
Once the lamb has finished cooking, remove from the heat and start on the rice. In a large pot, add the rice and cover with cold water. Add the cardamom pods and season with salt. Bring to a boil (do not cover with a lid). Cook for about 5-7 minutes. I would advise checking every couple of minutes and taste the rice – it should be just undercooked. Once it's reached that point, drain the rice.
Start to assemble the biriyani. In the same pot you cooked the rice, ad about 2 ladle spoonfuls of the stew (with some meat). Add about 2 servings of the rice on top – you shouldn't be able to see the stew underneath. Repeat this layering process until you have used up all the rice and stew.
Place the biriyani over a low simmering heat and cover with a lid. Cook for 10-14 minutes or until the rice is fully cooked and fluffy. If you find the rice is still to crunchy pour over a little boiling water and continue to cook until you get the right consistency.
To prepare the garnish, place a medium pan over a medium-high heat. Heat the oil in the pan, then cook with onions until soft. Season with a bit of salt.
Serve the biriyani, and garnish with the cooked red onions, fresh coriander and almonds.
For more INCREDIBLE recipes from lovely Ney check out her instagram on @neyskitchen.official