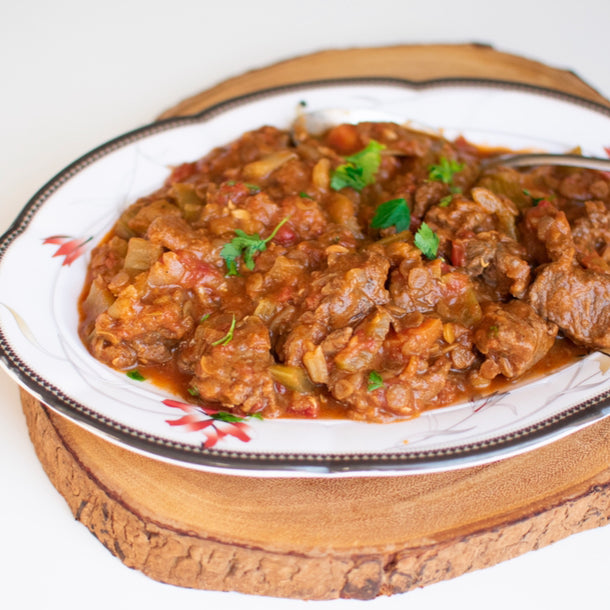 Chadnene Cypress - Middle Eastern
Moroccan Beef Stew
Ingredients
2 tbsp olive oil
750g beef, cut into chunks
1 tbsp vinegar
1 large Spanish onion, diced
3 celery sticks, sliced thickly
2 large carrots, halved and sliced
2 ½ tbsp tomato paste
2 tbsp plain flour
3 bay leaves
1 tsp oregano - (Spice Kitchen)
2 sprigs of thyme 
2 tbsp Worcestershire sauce
200g chopped tomatoes
500ml, boiling water
2 beef stock cubes, crumbled 
2 tbsp parsley, chopped - optional
Method:
Heat 2 tbsp of olive oil into a large non-stick soup pot (On a medium flame)
Add the beef chunks into the pot, until completely seared.
Once seared, remove the meat from the pot. Set the meat aside onto a plate and cover with foil.
To the pan add in your onions.
Add vinegar, use a wooden spoon to loosen the brown bits.
Add in the vegetables, cook for 3 minutes until soft.
Add in the tomato paste, ras el hanout, then add the beef back to the pot.
Sprinkle the flour on top of the meat and stir in the flour into dissolved.
To the pot add the bay leaves, thyme, Worcestershire sauce, chopped tomatoes, stock cubes and boiling water.
Bring to a boil and cook for 5 minutes.
Cover the stew and braise in the oven for two hours, until the meat is tender.
ladle into a dish, sprinkle with parsley and serve.
Thanks to Chadene Cypress for the recipe, a lifestyle photographer and recipe developer in the West Midlands.