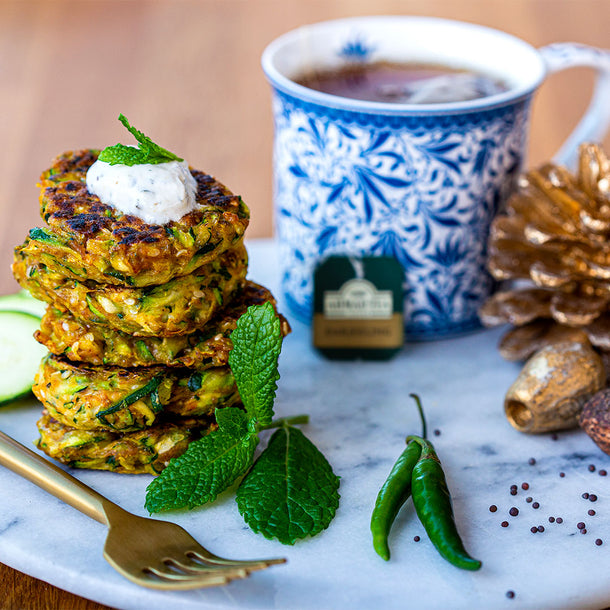 Mita Mistry - Asian
Hot Courgette Fritters with a Cool Chilli and Mint Dip
This December we're bringing you #SpicesofChristmas – 6 sublime recipes from around the world to pair with Ahmad tea wintery blends. 
Spices of Christmas- Recipe 1
The first is by chef, Mita Mistry - Hot Courgette Fritters with a Cool Chilli & Mint Dip which pairs beautifully with Ahmad Darjeeling Tea to warm you up this winter.
"There isn't anything like your mum's cooking.. and I love my mum's muthia.. hot fritters, made with chickpea flour and spiced with fresh green chilli, garlic, ginger, garam masala, turmeric with sesame seeds for an added little of texture.. Traditionally, these Gujarati steamed fritters are made with fenugreek or bottle gourd but we love to use new season courgettes as a little twist.. I've added a traditional chilli and mint yoghurt raita as a little dip as the fresh mint goes so well with the courgette. Like all the good foods.. simple to knock up and oh so moreish.. and you may have to stop yourself from eating the whole batch.. or just give in, like me.. Seriously, that's how good they are" 


Ingredients:
For the fritters
2 large courgettes
Grated 100g chickpea flour
3/4 tsp salt
1/2 Spice Kitchen turmeric
1 tsp fresh chilli
1 tbsp fresh garlic
1tbsp ginger
1/2 tsp Spice Kitchen garam masala
1 tbsp sesame seeds
Vegetable oil for shallow frying
For the yogurt and mint dip
200g Yoghurt
A small handful of fresh mint
1/2 tsp salt
1/2tsp Spice Kitchen cumin
1 small hot green chilli
Method:
First the dip. Mix the yoghurt, chopped mint, salt and crushed cumin seeds together in a bowl. Cover with clingfilm and put in the fridge for later.
Now for the fritters. Mix the grated courgette with the chickpea flour in a big bowl.
Add the salt, chilli, garlic, ginger, garam masala and sesame seeds and mix thoroughly.
Heat a big frying pan and add enough vegetable oil so that the fritters can shallow fry. Place a large spoonfuls, equal to two tablespoons, of the fritter mixture into the pan. Cook for 2-3 minutes on each side, or until golden-brown all over.
Remove and drain on kitchen paper.
Set aside in a warm place and repeat the process until all the fritter mixture is used up.
Serve hot with lots of the cool yoghurt dip on the side.. Feel good at first dip...