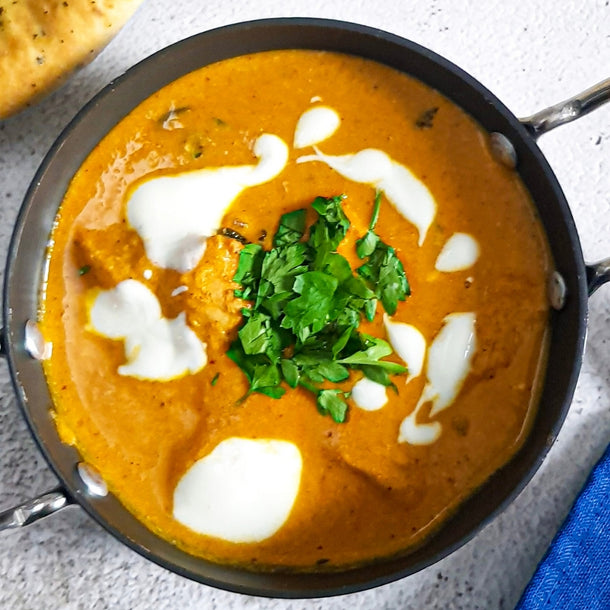 Indian
Healthy Butter Chicken (MURGH MAKHANI) by Mani
Here is a recipe for butter chicken (murgh makhani) which is a popular curry featuring an authentic sauce and spicy chicken.
HOW TO MAKE BUTTER CHICKEN?
MAIN INGREDIENTS:
Chicken Breasts or Thighs: You can opt for boneless chicken breasts or thighs with this recipe. Personally I do prefer boneless chicken thighs as they taste better and brings the best out of this dish. However, you can cut chicken breasts into bite-sized chunks which is more macro-friendly.
Chicken Marinade: For the chicken marinade you will need to combine these ingredients in your mixing bowl.
Greek Yogurt
Garlic and Ginger Paste
Red Chili Powder
Garam Masala
Lemon Juice
Salt and Black Pepper
Butter Paste/Sauce: The key to this dish is the butter sauce which needs to be blended into a paste. The good news is that you can easily buy these ingredients from your supermarket. You will need.
Butter
Red Onion
Garlic and Ginger Paste
Fresh Tomatoes
Cashew Nuts (optional)
Red Chilli Powder
Garam Masala
Cumin
Coriander
Water
Finishing touches: Once you combine the chicken and butter sauce, traditionally you will need to use fenugreek leaves to complement to taste.
METHOD:
Allow the chicken to marinate: Combine all the ingredients for the chicken in a mixing bowl and I suggest allowing this to marinate overnight or at least 4 hours – however 1 hour should be okay if you have no time.
Blend the butter paste: You will need to cook the ingredients in one-pot first. I suggest using either a high speed blender or hand blender to turn this into a smooth paste. This is now your main curry sauce which also can be used for other recipes!
Add the chicken and butter paste: Technically, this is a one-pot recipe because now you can add the chicken and butter paste to allow your butter chicken curry to cook on low heat. However, before you add the chicken and butter paste, add more butter and red chilli to complete this signature dish! And of course, fenugreek leaves and coriander leaves to garnish.
TIPS:
How to keep it low-carb: I use basmati rice for this recipe but if you want to keep it low-carb I would suggest using cauliflower rice or keto naan.
How to make it less spicy: Reduce the red chilli powder if the chicken marinade and butter paste if you feel this recipe is too spicy.
BUTTER CHICKEN MEAL PREP INFORMATION
The butter chicken can be reheated: I would recommend up to four days in the fridge if you are referring to the butter chicken and it will still taste amazing because the spices have fully settled in. However, be cautious if you are going to store and reheat the rice which I explain in this post.
The butter chicken sauce can be frozen: You can make the paste separately and this is handy to use for other recipes, in case you do not want to cook chicken.
INGREDIENTS 
Preparation time: 20 minutes 
Cooking time: 40 minutes
Serves 4  
Chicken Marinade
500g

Boneless Chicken Breasts (cut into small pieces) or Boneless Chicken Thighs

125g

Greek Yogurt
Garlic Paste
Ginger Paste

2 tsp

Red Chili Powder

1 tsp

Garam Masala

1/2

Lemon (juiced)

2 tbsp

Extra Virgin Olive Oil
Salt and Black Pepper (to taste)
Paste
1 tbsp

Butter

1 tbsp

Extra Virgin Olive Oil

1

Large Red Onion (finely chopped)

1 tsp

Garlic Paste

1 tsp

Ginger Paste

4

Fresh Tomatoes (chopped)

25g

Cashew Nuts

1 tbsp

Red Chill Powder

1 tsp

Garam Masala

1 tsp

Ground Cumin

1/2 tsp

Ground Coriander

1/2 cup

of Water
For the Chicken + Paste:
1 tbsp

Butter

1 tsp

Red Chilli Powder

1/4 tsp

Kasuri Methi/Fenugreek Leaves (optional)
Chopped Coriander (to garnish)
METHOD 
This all can be made in one-pot but follow these steps below for an easier process:
Chicken Marinade
Add to your mixing bowl: chicken, yogurt, garlic paste, ginger paste, red chilli powder, garam masala, lemon juice, salt and black pepper. Stir to combine and allow it to marinate in the fridge overnight or at least 4 hours – however 1 hour should be okay if you have no time.
Add olive oil to your pan, and shallow the chicken pieces until they are cooked on the outside, which should take 5 minutes on each side.
Keep the cooked chicken aside and cover while you prepare the paste.
Paste – note: you will need a blender
In the same pan, add olive oil again, and add butter too.
Add the red onions, garlic paste and ginger paste, and sauté until golden.
Add the red chilli powder, garam masala, ground cumin and ground coriander.
Add the chopped tomatoes and cashew nuts, and stir to combine.
Allow the simmer by adding water.
Once it has been cooked and cooled down, place it into a blender and blend until it forms into smooth paste.
Combine Chicken and Paste
To the same pan, add the butter and red chilli powder.
Add the paste to the pan, followed by the chicken pieces.
Cover and allow to simmer for another 5 minutes. Add the kasuri methi and garnish with chopped coriander.
Serve with rice, naan or a flatbread.
DID YOU MAKE THIS RECIPE?
Recipe kindly provided by the AWESOME Mani at Spicy Meal Prep.
Tag @spicymealprep on Instagram and hashtag it #SpicyMealPrep