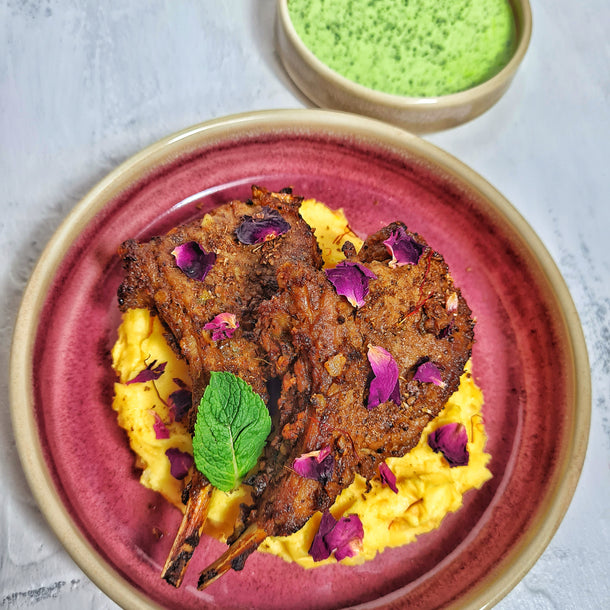 sanjcooks - Indian
Gunpowder Masala Lamb Chops, Saffron Mash, Mint & Coriander Chutney
Let's be real, lamb chops seriously bang! 
I prepared these luscious chops from @owtonbutchers by double marinating them for optimum flavour. You can use chops or cutlets for this recipe, but I find chops are meatier and therefore hold better with mash.
LAMB INGREDIENTS 


6 to 8 lamb chops/cutlets
1 inch ginger, peeled and grated
5

 

Garlic cloves, grated
2

 

Green chillies, finely chopped
1

 

tbsp

 

Tandoori masala mix
1

 

tbsp

 

Garam masala
½

 

tsp

 

Turmeric
1

 

tsp

 

Red chilli powder
1

 

tsp

 

Salt
75 ml

 

Double cream
GUNPOWDER SPICES
2

 

tbsps

 

Olive oil

Gunpowder spices

1

 

tbsp

 

Lemon juice
SAFFRON MASH INGREDIENTS 
2 - 3 medium sized potatoes, peeled and chopped in to 3cm cubes

Large knob of salted butter
METHOD
First make the marinade. Place the ginger, garlic, green chilli and oil in a blender and pulse. Add to a bowl, along with the tandoori masala, garam masala, salt, chilli powder and turmeric. Mix well. Then add the double cream and stir to mix well.
Place the lamb chops in to the bowl and spoon over the creamy marinade to coat thoroughly. Marinade in the fridge at least 4 hours, preferably overnight for the meat to infuse the marinade.
2 hours before you are ready to cook the chops, add the cumin seeds, coriander seeds and fennel seeds in to a dry pan over a medium flame. Toast the seeds until they are brown in colour and fragrant, approx. 3 - 4 minutes, frequently tossing the spices for an even roast.
Place the toasted spices in to a spice blender or grind using a pestle and mortar.
Remove the lamb from the fridge and coat the lamb chops with the toasted spices and the lemon juice. Mix well and leave to marinade for 2 more hours.
Preheat your oven to 200 degrees C. Place the lamb chops on an oiled baking tray. Roast for 15 minutes, turning once. Remove from the oven, and place under a hot grill for 6 minutes, 3 minutes on each side.
For the mash, bring chicken stock, potatoes, garlic, and saffron to a boil in a large pot. Cover and simmer until potatoes are tender, about 15 minutes.
Drain the potatoes and return to the pot. Add the cream, cutter, salt, and black pepper to potatoes. Mash potatoes with a potato masher until smooth and creamy.
Serve with a chutney by blending coriander, mint, green chilli, salt and yogurt.
For more scrummy recipes from Sanj check out his website and Instagram pages.