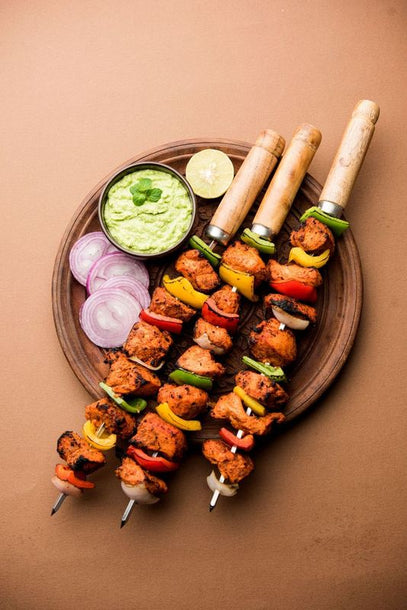 This tender, marinated chicken tikka dish has it all: heat from the chilli, creaminess from the yoghurt and cheese and freshness from the kick of lemon. You are welcome...
INGREDIENTS
500g chicken thighs, each cut into 2 or 3 chunks depending on size
Marinade
1 clove minced garlic
1⁄2 tsp ground mace
1⁄2 tsp ground cardamom
1 tsp salt
Juice from 1⁄2 a lemon
1 tbsp vegetable oil
1 inch ginger, minced
2 green chillies, finely chopped
2 tbsp horseradish sauce
2 tbsp chopped coriander
2 tsp finely ground white Kampot pepper
3 tbsp thick set yoghurt
1 tbsp cream cheese
METHOD
Mix all the ingredients for the marinade in a bowl.
Throw in the diced chicken and stir to coat evenly. Transfer to a container with a fitting lid and leave to marinate for at least 4 hours in the fridge.
While the chicken is marinating, soak a few wooden skewers in hot water (you can use metal ones too, but don't soak them).
Then, about 40 minutes before you're ready to cook, turn on the oven for grilling (make sure the grill elements are clean to avoid smoking, and that there are no food spillages in the oven that can burn).
Take the chicken out of the fridge and thread onto your wooden or metal skewers. Place on a metal tray and place in the middle of the oven, and cook for 10 to 12 minutes, making sure to turn halfway through.
When you take the chicken out of the oven, test that it's fully cooked by slicing the thickest piece and checking the middle. If it's still a bit pink, place back in the oven for a few minutes to finish cooking.
Serve with a cucumber raita, chutney and naan, along with a nice wedge of lime or lemon.