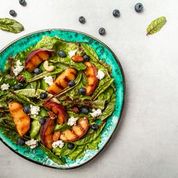 Spice Kitchen - European
Goat's Cheese & Aleppo Pepper Salad
Tangy cheese, yummy grilled peaches and the all-so-important heat of Aleppo. If we had to choose one salad to eat for the rest of our lives, it would be this one.
INGREDIENTS
1⁄2 red onion thinly sliced
2 tbsp vegetable oil
2 peaches, quartered, stone removed
1 tbsp butter
1 tsp thyme leaves, picked
Handful of rocket leaves
10 fresh mint leaves
1 tbsp toasted walnuts
150g fresh goat's cheese,
roughly chopped
2 tsp Aleppo pepper
Dressing
1 tbsp olive oil
1⁄2 tsp Dijon mustard
1⁄2 tsp honey
2 tsp cider vinegar
1 small clove garlic, finely minced
1 tbsp chopped parsley
METHOD
Place the sliced red onion in a bowl of iced water.
Heat a frying pan until smoking hot and add a splash of vegetable oil, followed by the peaches. Cook until caramelised on all sides.
Add the butter and thyme leaves, and let the peaches cook for a further 2-3 minutes in the foaming butter, basting them as they cook.
Remove onto a plate, pour the butter on top and set aside.
To make the dressing, whisk all the ingredients together in a small bowl.
To serve, mix the rocket, peaches, iced onion, mint, walnuts and goats' cheese in a bowl, and arrange on a platter.