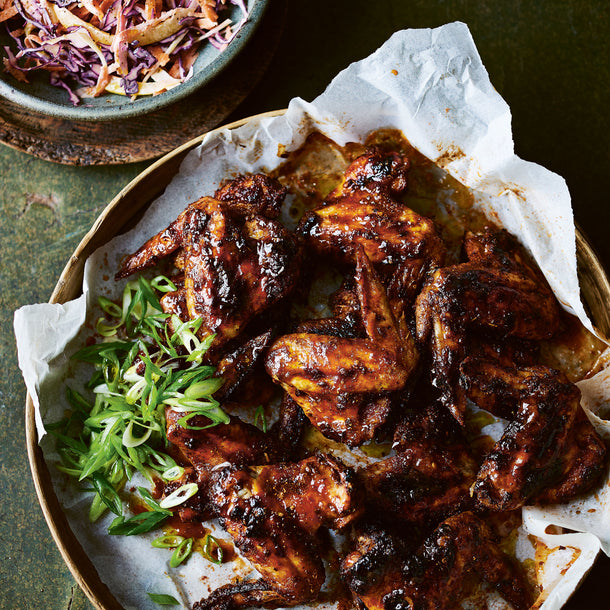 Fiery Blackened Cajun Chicken
When I first created this recipe, it was one of those days when everything goes right. The chicken wings are crispy, fiery and succulent. But the best part is that they come out of the oven with a gorgeously sweet glaze. I love to serve them with a side of homemade rainbow slaw but you can add some crispy roasted new potatoes to make it a more filling meal.
This recipe is equally amazing Za'atar, Jerk, Tandoori, Harissa and cooks perfectly on a BBQ if you're making on a lovely warm summer day or evening. As always, just be sure to make sure the meat is thoroughly cooked! 

Serves 2 
Olive oil, for greasing
1–2 tbsp hot chilli sauce (you know how hot you like it!)
2 heaped tbsp Cajun blend
6–8 chicken wings
1 tbsp brown sugar
1 tbsp melted butter
1 tbsp tomato purée (paste)
1⁄2 tsp salt

Optional
1 tbsp of your favourite shop-bought mango chutney*
To serve
1 spring onion, finely sliced
Your favourite home made or shop bought coleslaw 
Method 
Preheat your oven to 200°C fan/220°C/425°F/gas mark 7.
Cover a large baking tray (sheet) with baking paper or foil (your future self will thank you when you come to wash up!) and smear with a small drizzle of olive oil.
Add your chilli sauce and Cajun blend to a large bowl. Tip in your chicken wings and stir to combine. I like to get my hands into the bowl to ensure the wings are evenly coated.
Arrange the chicken evenly on your lined tray.
Mix your sugar, melted butter and tomato purée in a separate bowl. Brush this mixture evenly over your chicken wings, then sprinkle the salt evenly on top. This will help your wings crisp up.
Put the tray in the oven and cook for 35–40 minutes until everything starts to sizzle and blacken, and your chicken is cooked thoroughly (test one piece to be sure: you want the internal temperature to reach 75°C/167°F when a meat thermometer is inserted into the thickest part of the wing).
Serve up on plates, drizzle over any remaining pan juices and sprinkle with chopped spring onion. Enjoy with a big spoonful of rainbow slaw.
*Top tip: For a really tasty twist in this dish, 5 minutes before the end of the cooking time, brush a tablespoon of mango chutney over the chicken wings and pop them back in the oven. Your chicken wings will get an additional tangy but sweet glaze and taste amazing!