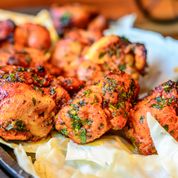 Spice Kitchen - Middle Eastern
East African Grilled Chicken
Mama Spice remembers making this from her time growing up in Kenya. A long-standing Spice Kitchen favourite, this recipe is so easy to create but will blow your socks off!
INGREDIENTS
Marinade
100g Greek or strained yoghurt
2 tbsp olive oil
1 tbsp cracked black pepper
1 plum tomato
1 tsp salt
1 tbsp garlic paste
1 tsp chilli powder
METHOD
Blend all the ingredients for the marinade into a smooth paste.
Rub into the chicken and leave to marinate in the fridge for a few hours.
Fire up the BBQ and grill the chicken for 5 minutes on each side until fully cooked.
Serve with salad and a squeeze of lemon.