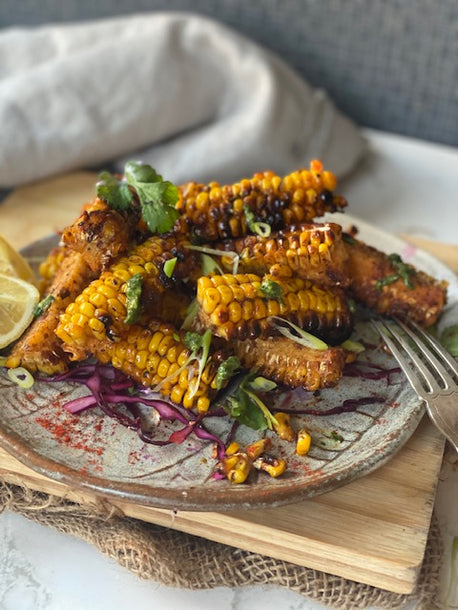 Mediterranean
CORN RIBS BY RENU BHARDWAJ
A perfect Friday night, weekend treat. Spicy, Smokey, sticky and simply delicious! 
It's a great starter and a perfect dish for any vegan or vegetarian meal. It's a little fiddly to cut so do be careful! 
HOW TO MAKE VEGAN CORN RIBS 
INGREDIENTS 
2 Corn on the Cob 
4-5 tbsp Olive Olive
1 Fresh Lemon
Butter (optional)
Honey or Maple Syrup (optional) 
SPICES

1 tsp Cayenne Powder 
1 tsp Paprika
1 tsp Salt
1 tsp Black Pepper
1 tsp Garlic Powder
1 tsp Harissa
METHOD 
Boil the corn for 5-7 minutes to soften the husk. Allow to cool before cutting. 

With a sharp knife (holding flat was safer for me), gently slice the corn in half lengthways. Slice the half into 2/3. Should count 4 lines across to keep them a chunky rib. 

Drizzle with oil and create a spice mix with all the spices. Coat the corn with the spices, but, keep a little of the spice mixture for later.

Lay the corn on a lined tray and grill for 10mins, rotating. Half way through, squeeze some lemon and more spices on the ribs. 

Remove from grill, drizzle your optional honey/syrup/and or butter whilst hot. Squeeze of lemon and a pinch of the spice mixture. 
Eat them whilst their hot!
DID YOU MAKE THIS RECIPE?
Recipe kindly provided by the AMAZING Renu Bhardwaj. Make sure you tag @hey_renu when creating this yummy dish!