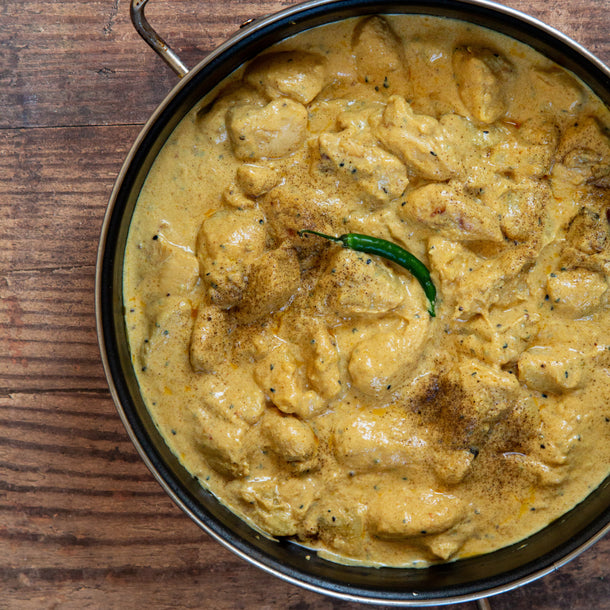 Chicken korma:
750g chicken skinless breast fillets, chopped into large pieces (or skinless chicken on the bone)
5 medium sized potatoes, peeled and in medium-sized chunks
4 tbsp ghee
8 whole black peppercorns
5 green cardamoms
2 black cardamoms
2 star anise (use 3 cloves if you don't have star anise)
2 bay leaves
1 cinnamon stick
½ tsp nigella seeds
½ tsp mustard seeds
½ tsp cumin seeds
2 onions, thinly sliced
6 garlic cloves, pureed
1 tbsp ginger, pureed
1 finger green chilli, halved lengthways
1 tbsp curry paste or curry powder
200-250ml evaporated milk
3-4 tbsp cashew cream* (see notes)
250ml hot water
Salt
Par-boil the potatoes for 5 mins to soften them prior to cooking the korma and set aside.
In a large heavy based pan, heat ghee over a medium heat. Add the whole spices and green chilli; fry for 30 seconds.
Add the sliced onion, ½ tsp salt and a big splash of water. Stir and stick lid on. Leave onions to gently soften for 10-15 minutes. Add splashes of water to stop them drying out and avoid browning them too much during this stage.
Now bump heat to medium-high and add the garlic and ginger purées. The pan will sizzle up and then fry for 3-4 minutes.
Add the chicken pieces to the pan, mix well with the onion mixture and cook to whiten the chicken all over. Once whitened, add the potatoes, another splash of water and leave to simmer for 5 minutes.
Next add the curry paste or powder and stir well to incorporate it into the chicken and potatoes. Stick the lid back on and still over a medium heat, cook for 10 minutes. 
Gently add 100ml water, the cashew cream (see notes), 1 tsp sugar, 1 tsp salt and evaporated milk to the korma. Mix well and bring up to a simmer. Once bubbling, stir once more then reduce the heat to low and stick the lid on. Leave to simmer for 20-30 minutes. The slower and longer the simmer, the more beautifully the korma flavours will infuse your creamy gravy. As it simmers, check the consistency I usually need to add another 100-150ml water to get a lovely creamy korma sauce. 
Finally, adjust the seasoning when ready and then serve with pilau rice and slivers of green chilli if you're after more heat! 
Notes – how to make Cashew Cream
150g cashew nuts 
1tbsp lemon juice
1/2 tbsp salt 
120ml water 
Place your cashew nuts in a bowl and cover with boiling water. Leave for an hour and then drain and allow to cool. 
Next, add your water, lemon juice, salt and water to a blender and whizz into a smooth paste. Refrigerate until you are ready to use. 
RECIPE BY MITHI AHMED AKA THE DAAL DIARIES.
Mithi is a Bangladeshi-born Glaswegian who is currently living in London. By day, she's a doctor working in medical publishing but by night she brings her kitchen to life with the smells and spices of Eastern cooking. Through her Instagram, she shares her passion for authentic Bangladeshi and Indian home-cooking and she hopes to bring the same joy and flavours to Western dinner tables through her easy-to-follow recipes, many of which, have been handed down to her from her family. 
SEE HER AMAZING INSTAGRAM HERE: