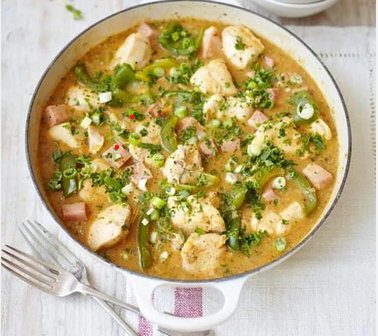 Spice Kitchen - South American
Cajun Chicken Gumbo
Easy and simply delicious......
INGREDIENTS
4 tbsp olive oil
3 spring onions, sliced
2 tbsp very roughly chopped parsley
1 onion, chopped
2 celery sticks, sliced
3 bay leaves
2 green peppers, deseeded and cut into chunks
5 tbsp plain flour
4 tsp Cajun Spice Kitchen spice mix 
5 skinless chicken breasts, cut into chunky pieces
600ml chicken stock (made with 2 stock cubes)
300g thickly sliced ham, trimmed of any fat and diced
METHOD
Heat 1 tbsp of the oil and fry the chicken for a few mins to brown.
Tip out onto a plate.
Add the onion to the pan with 1 tbsp more oil and fry for 5 mins until almost softened. Add the celery and fry for another 2 mins, then tip out to join the chicken.
Add the remaining oil, bay leaves and flour to the pan and cook into a paste. Carry on cooking, stirring constantly (with a splash of water if you need), until golden brown, then stir in the spices for 2 mins.
Gradually stir in the stock until smooth and saucy.
Return the chicken and veg to the pan, along with the peppers, cover and simmer gently for 15 mins.
Stir in the ham, cover and simmer gently for 10 mins more.
Check for seasoning, then serve, sprinkled with the spring onions mixed with the chopped parsley.
For more top quality recipes check out the awesome www.bbcgoodfood.com
SIMILAR RECIPES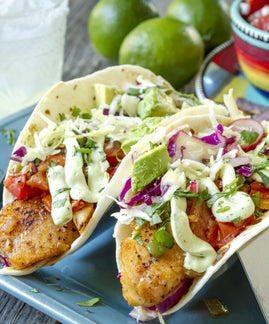 Super tasty and so easy to make! Pile your tacos high with colourful toppings for a beautifully healthy midweek treat.
Sweet, sour, spicy and utterly savoury Mexican beef stew, packed in to crisp tacos and filled with oozy cheese, crunchy...