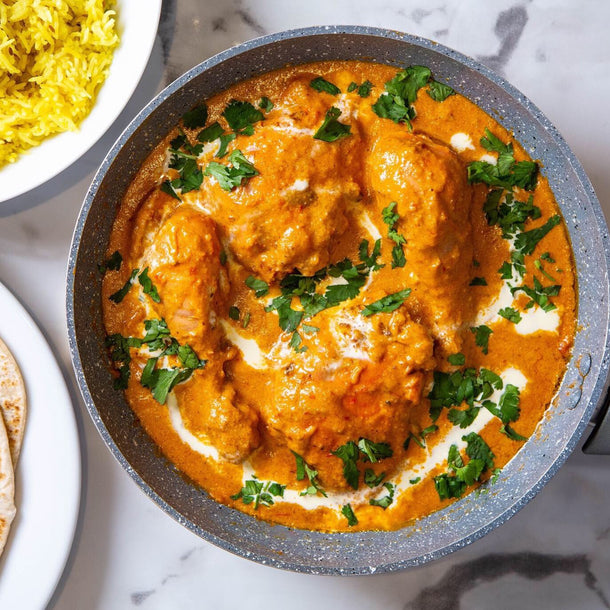 Butter chicken (serves 5-6)
For the marinade:
4-6 chicken pieces, bone in and skinless
3 tbsp Greek yoghurt
2 tbsp lemon juice
1 tsp salt
½ tsp fenugreek powder
½ tsp garam masala
¼ tsp Kashmiri (mild) chilli powder
Pinch of turmeric powder
1 tsp tandoori masala (for colour, but optional)
1 tbsp vegetable oil 
For the gravy (makhani):
5 medium-sized tomatoes, roughly chopped
50g cashew nuts, soaked in warm water for 15 minutes and drained
80g ghee or butter
4 green cardamoms
3 whole cloves
1 cinnamon stick 
5 garlic cloves, pureed
1 tsp ginger, pureed
1 finger green chilli, deseeded and finely chopped
1 tsp sugar 
½ -1 tsp Kashmiri (mild) chilli powder
¼ tsp turmeric powder
½ tsp fenugreek powder or 1 tsp fenugreek leaves
1 tsp garam masala
100ml cream 
Salt


Method:
In a bowl, mix the marinade ingredients together. Add the chicken pieces and marinade for at least 2 hours or ideally overnight. 
When ready to cook the makhani, preheat the oven to 220 degrees Celsius. Place the chicken pieces in the oven and bake for 20-30 minutes, turning halfway. You may also want to place it under the grill for the final 10 minutes to give it some extra colour and smokiness. Remove from the oven and set aside for later. 
Make the makhani whilst the chicken cooks. In a blender or food processor, blitz the tomatoes and cashew nuts to a smooth purée. Set aside.
In a heavy-based pan, heat the ghee over a medium heat. When it begins to bubble, add the whole spices and toast for 30 seconds to 1 minute. 
Add the garlic, ginger and green chilli to the pan and fry for 2 minutes.
Now add the tomato-cashew purée. Stir well and allow the gravy to bubble up; watch out for some splashes as the tomato bubbles. 
Now add the chilli powder, turmeric, sugar and ¼ tsp salt. Stir well, and with the lid off, leave to gently simmer and thicken for 5-10 minutes. If the purée seems a bit chunky, you can give it a quick blitz with a hand blender now - I like to have my sauce very smooth.
Once the sauce is rich and slightly thickened, pour in 250ml hot water and stir well. Bring the gravy up to a boil, then reduce the heat to low-medium and leave to simmer gently for 5-10 minutes with the lid off. 
Once the sauce is smooth and thickened, gently add the grilled chicken to the pan and coat in the sauce.  Gently simmer on a low heat for 10 minutes to heat through.
Add the garam masala and fenugreek powder, stir and simmer again for 2 minutes. 
When ready to serve, pour in the cream and stir through gently. You can add more or less depending on your desired creaminess. Simmer very gently for 3 minutes then check the seasoning and adjust as necessary. 
Before serving, garnish with coriander and cream then serve up with pilau and parathas!
RECIPE BY MITHI AHMED AKA THE DAAL DIARIES.
Mithi is a Bangladeshi-born Glaswegian who is currently living in London. By day, she's a doctor working in medical publishing but by night she brings her kitchen to life with the smells and spices of Eastern cooking. Through her Instagram, she shares her passion for authentic Bangladeshi and Indian home-cooking and she hopes to bring the same joy and flavours to Western dinner tables through her easy-to-follow recipes, many of which, have been handed down to her from her family. 
SEE HER AMAZING INSTAGRAM HERE: