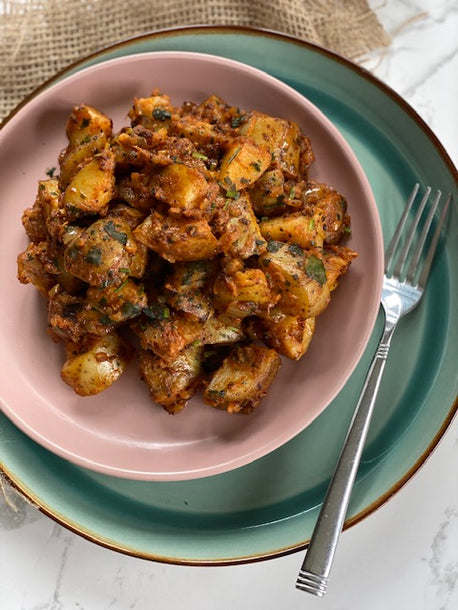 Hey Renu - Indian
Bombay Potatoes
Ingredients:
4 medium potatoes chopped
1 small finely chopped onion
Thumb of ginger finally grated.
4 minced garlic cloves
1tsp of salt.
½ tsp of chilli powder, garam masala, cumin seeds, coriander powder, mustard seeds
1 dried whole chilli
2 small curry leaves
Handful of coriander
4 tbsp of passata
oil to fry the sauce
Method
Steam 4 washed and chopped potatoes
Flash fry potatoes in a hot wok with oil and ½ tsp salt for 3-4 minutes.
In a hot pan, add 4 tbsp of oil and add, mustard seeds and dry chilli and curry leaves.
Add the grated ginger and garlic and then the finely chopped onions.
Cook for 4-5 minutes until brown add all the spices, cook for a further 2 minutes.
Add the passata and cook until you start to see a film of oil come to the top of the sauce.
Add 2 tbsp of water to sauce and cook
Add the potatoes and coat well in the sauce and cook for 1-2 minutes, remove the chilli before adding coriander.
Recipe by Renu Bhardwaj
About Renu
I am a passionate and active lifestyle influencer & mum. I am delighted to have a cooking series with BBC social showcasing easy authentic family dishes, and championing fake away Friday. 
I love to recreate the food that I had growing up in my mums kitchen and creating them with a Scottish twist. I like to show easy recipes for everyone to follow, healthy eating and encouraging some plant based and vegan food too.