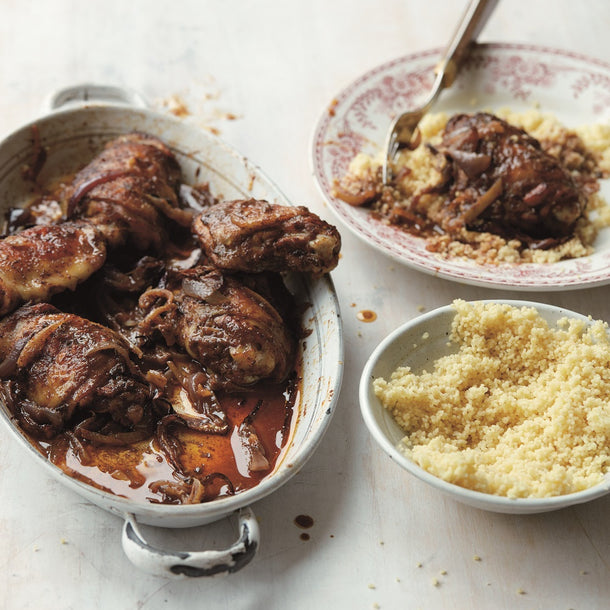 Emma Spitzer - Middle Eastern
Baharat Spiced Chicken by Emma Spitzer
A wonderful recipe from Masterchef finalist Emma Spitzer, who has released her debut cookbook Fress this month. You can purchase a signed cookbook with spices here! 
During MasterChef, we were set a brief of choosing someone that inspired us and creating a dish around that person. It was a no-brainer for me; I had to do something with roast chicken, inspired by my mum, but it had to be elevated from the classic bird I knew and loved into a MasterChef-worthy creation. This recipe incorporates all my favourite spices. With an hour to cook this dish, I spatchcocked a poussin to allow it to cook faster, but to eliminate the need for any butchery here, I've recreated the recipe using thighs, although it would work with any part of the chicken or, of course, the entire bird. Not only is it very easy to make, it is ridiculously tasty and fit for either a simple family supper or as part of a more elaborate banquet.
Serves 6
12 bone-in, skin-on chicken thighs
2 red onions, thinly sliced
2 tablespoons baharat
2 teaspoons ground sumac
1 teaspoon ground cumin
1 teaspoon ground coriander
4 preserved lemons, halved and flesh scooped out and discarded
3 garlic cloves, crushed
400ml chicken stock (using 1 tablespoon chicken stock powder)
3 tablespoons olive oil
1 teaspoon sea salt
a few twists of black pepper
rice or couscous, to serve
Add the chicken thighs to a sturdy large resealable plastic food bag with all the other ingredients, then seal well before massaging the bag to mix everything together. Leave to marinate in the fridge for a minimum of 2 hours but preferably overnight.
Preheat the oven to 200°C/180°C fan/Gas Mark 6.
Add the chicken and all the remaining contents of the bag to a baking tray and roast for 45–50 minutes until the chicken is golden brown and the juices run clear when pierced with a knife.
Serve the chicken with a generous amount of the onions and lemon skins over rice or couscous, ladling the juices over the top.