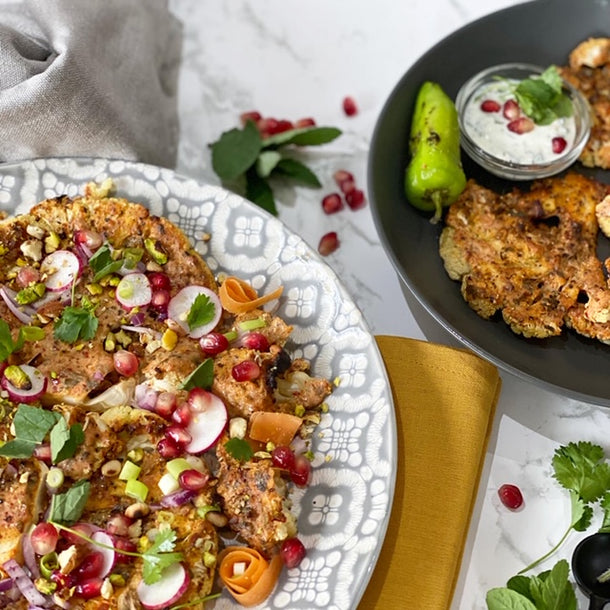 Hey Renu - Middle Eastern
Spiced Cauliflower Steaks
I love making this cauliflower steak seasoned with a smoky shawarma spices blend, roasted with a crust, and served with chutney!
Ingredients:
-Large Cauliflower sliced (makes 5-6 slices. 
-6 tbsp of yogurt 
-3 tbsp of olive oil, extra for topping.
- Spices 1 tsp of harrisa, paprika, pepper, Pul Biber / Aleppo Pepper, Za'atar. Salt and pepper and chilli flakes.  
-2 tsp of minced garlic. 
-Finely chopped mint, coriander 
-1/2 Lemon
-Water
Method:
-In a bowl mix the yogurt, lemon juice and spices, garlic and herbs.
-Marinate the cauliflower and leave some for later. 
-Drizzle some olive oil on the steaks and cook for 20 minutes. 
-Add 60ml of water to the pan to allow the stalks to cook through. 
-Half way through check and add more of the marinade sauce to coat.
.
Once cooked I love to dress this with Raita dip (recipe on my post).
I added roasted chopper pistachios, mint, coriander, pomegranate, spring onion, red onion, peeled carrots.
.
I love this recipe, it's full of flavour, tasty and perfect bbq food. Give it a try and tag me in your creations @hey_renu