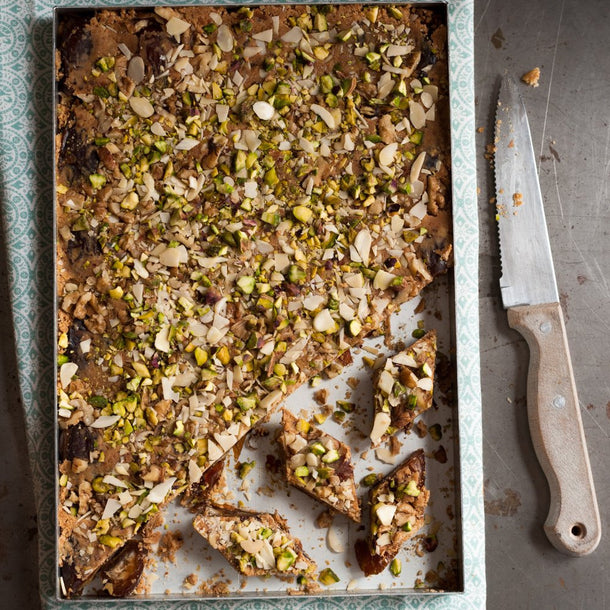 Bethany Kehdy - Middle Eastern
Date Fudge by Bethany Kehdy
Really pleased to showcase this stunning recipe from the amazing
Bethany Kehdy
. Bethany Kehdy is a Lebanese-American food author and presenter most notably known by her popular Middle Eastern food blog,
Dirty Kitchen Secrets
. Born in Houston, Texas to an American mother and a Lebanese father, Bethany grew up in Lebanon during the country's most volatile civil war years.
Date Fudge
This delicate confection tends to crumble between your fingers, so make sure you have a plate or a napkin on hand to put it on. it's so moreish that you will want to chase every last crumb.
Serves 4
Preparation time: 45 minutes, plus setting and cooling Cooking time: 20 minutes
100g/31⁄2oz/1 cup walnut halves, plus 55g/2oz/1⁄2 cup walnuts, roughly chopped
500g/1lb 2oz/scant 3 cups dried pitted dates
300g/101⁄2oz unsalted butter
300g/101⁄2oz/scant 21⁄2 cups plain flour
50g/2oz/scant
1⁄2 cup icing sugar
1 tsp ground Spice Kitchen cinnamon
1⁄2 tsp ground Spice Kitchen cardamom
a pinch of salt
1 Toast the walnut halves in a heavy-based pan over a medium heat for 2–3 minutes until golden brown and fragrant, shaking the pan often.
2 Stuff a toasted walnut into each date and then pack them tightly in a 20cm/8in baking tin, 3cm/11⁄4in deep.
3 Melt the butter in a deep heavy-based saucepan over a medium–low heat, then add the flour, icing sugar, cinnamon, cardamom and salt and stir constantly for 10–15 minutes, until the mixture resembles a smooth golden caramel.
4 Pour the mixture over the dates and smooth out with the back of a metal spoon. Leave to set for 20 minutes.
5 Grind the walnut pieces, pistachios and almonds separately using a pestle and mortar. Sprinkle a thin layer of pistachios over the top of the fudge, then one of walnuts and finally almonds, then repeat until all the nuts have been used. Press the nuts down with your hands so that they stick to the fudge. Leave to cool completely, then, using a sharp knife, cut into small squares or diamonds to serve.