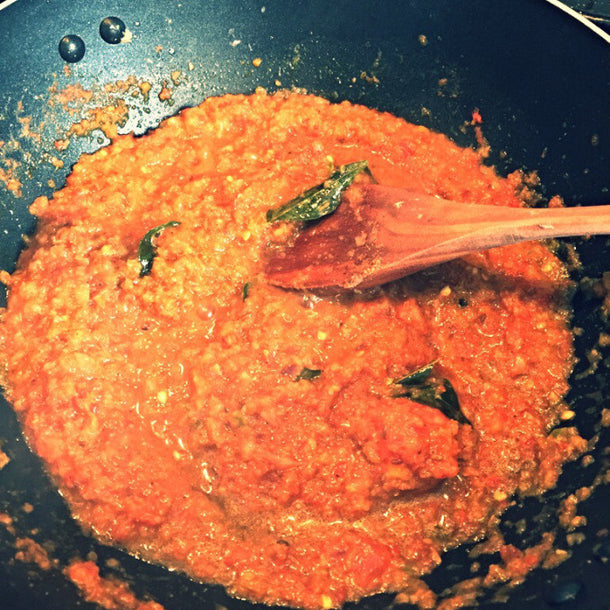 Binnys Kitchen - Asian
Curry Base by Binnys Kitchen
The base of every curry is really important, for this is what really enhances the taste of your dish and makes your vegetables/meat taste amazing. As it is cooked for a long time the spices really enhance and develop the flavours. It is well worth making this in advance.
Here is how I make mine :) 
Ingredients:
2 chopped red onions 
 2 chopped green chilies
 1 tablespoon crushed garlic
1 tablespoon crushed ginger
 ½ cup vegetable oil
½ teaspoon Spice Kitchen cumin seeds
 A couple of

Spice Kitchen 

bay leaves
1

Spice Kitchen 

cinnamon stick
2 large tomatoes, pureed 
½ teaspoon salt
½ teaspoon

Spice Kitchen

 turmeric powder
 ½ teaspoon

Spice Kitchen 

red chilli powder
 1 teaspoon

Spice Kitchen 

coriander powder 
1 teaspoon

Spice Kitchen 

cumin powder
½ teaspoon

Spice Kitchen 

garam masala
 
 Method: 
Blitz the onions, green chilies, garlic and ginger in a food processor/blendee until it is a fine paste. 
Heat oil in saucepan over medium heat and the cumin seeds, bay leaves and cinnamon sick. 
When the cumin seeds start to sizzle, add the onion paste. 
Turn the heat down and cook for around 15 minutes until the onions are softer. Stir occasionally to mix them around. 
 Now add the rest of the spices and puréed tomatoes to the onions. 
Put the lid on the pan and let this cook through for around 30 minutes.
Give it an occasional stir in between.
Once the oil separates from rest of the sauce, the masala is ready.
It is a good idea to make this advance and freeze it in little containers for days you want to whip up a curry quickly!