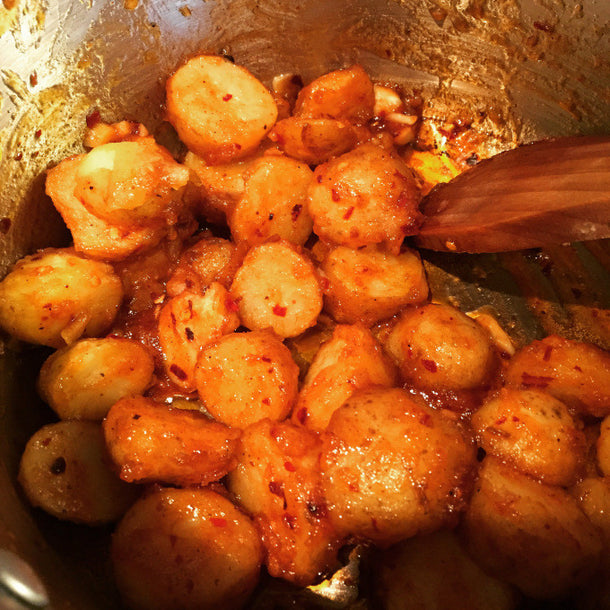 Spice Kitchen - Asian
Chilli and honey glazed potatoes
A delicious indo-chinese treat! Perfect as a side, mains or a special treat!
Serves 2 and takes approximately 40 minutes to make.
Ingredients:
For the potatoes:
2 medium size potatoes
1 teaspoon Spice Kitchen Harissa
1 teaspoon salt
1 tablespoon crushed garlic
50 grams of corn flour
2 tablespoons water
Oil for deep frying
Sauce:
2 tablespoons of honey
1 1/2 tablespoons tomato ketchup
1 tablespoon rice wine vinegar
2 teaspoons crushed garlic
1 1/2 tablespoons oil
1 1/2 teaspoons Spice Kitchen Harissa
1 1/2 teaspoon Spice Kitchen Chinese Spice Blend
Salt to taste
Method:
Boil the potatoes for 20 minutes. 
Cut them into small chunks place in a bowl.
Mix in the harissa, salt, garlic and cornflour.
Heat a deep pan or deep fryer.
Add 2 tablespoons water to the potato mix so that the mixture coats the potatoes.
Deep fry the potatoes in batches till they are golden and set aside on a kitchen towel to drain the oil.
In a separate pan heat up the oil on medium heat.
Add the garlic, tomato ketchup, rice wine vinegar, Chinese spice and honey and give it a good mix.
Now add the potatoes and chilli flakes and stir everything together.
Cook for around 4 minutes and stir constantly.
Best served with rice or delicious enough to eat on its own :)