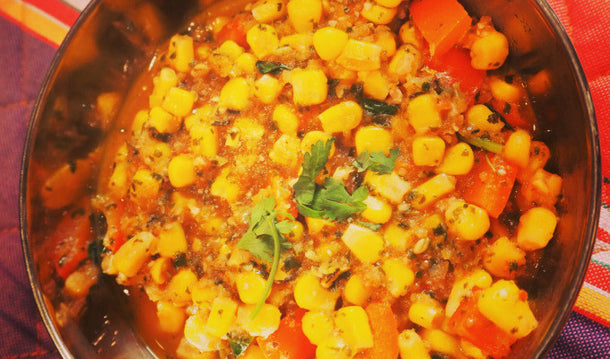 Binnys Kitchen - Asian
Spicy Corn Masala by Binnys Kitchen

Sweetcorn is one of my favourite ingredients to eat with a gravy because of the wonderful contrast between sweet and spicy. 
This is a simple recipe which serves 4 people. The trick in preparing it quicker is using a blender/food processor to prepare the ingredients. Perfect for a tasty dish after work and ready in under an hour! 
Ingredients
1 1-2 cup of sweetcorn  (I used tinned sweetcorn)
1 chopped green chilli (or 2 if u want it hotter)
1 chopped large red onion
1 1/2 teaspoon garlic
1 1/2 teaspoon ginger
1 cup of coriander leaves
1 teaspoon Spice Kitchen cumin seeds
2 large tomatoes pureed
Handful of chopped fresh methi (fenugreek) leaves or kasuri methi (to give it a lovely flavour)
One cubed red capsicum
Salt to taste
2 tablespoons butter
1 teaspoon Spice Kitchen cumin seeds (crushed) 
1 teaspoon

Spice Kitchen

garam masala
1/2 teaspoon

Spice Kitchen

red chilli powder
1/2 teaspoon sugar
1/2 cup water at room temperature 
Method
Pop a saucepan filled with water on the hob to boil and add the sweetcorn and a pinch of salt and sugar. Let this simmer for 5 minutes and then take off the hob and drain the sweetcorn and set aside.
Now prepare the paste for the gravy by blitzing the onion, coriander leaves, cumin seeds, chillies, ginger, garlic in a blender or food processor till it is smooth. 
Heat the butter in a Kadai or large pan.
Pour in the onion mixture and cook this on medium heat for around 4 minutes.  
Add the cubed capsicum to this and let this cook for a further 4-5 minutes, mixing regularly. 
Now add the tomato puree and methi leaves along with the garam masala, cumin powder and red chilli powder.
After 5-6 minutes add the sweetcorn, sugar and salt to taste and 1/2 cup of water and let this cook until the water has evaporated.
Your spicy corn masala is now ready! Best served with chapattis or naan bread and a side of raita.
Recipe by Binnys Kitchen - click here for more recipes.