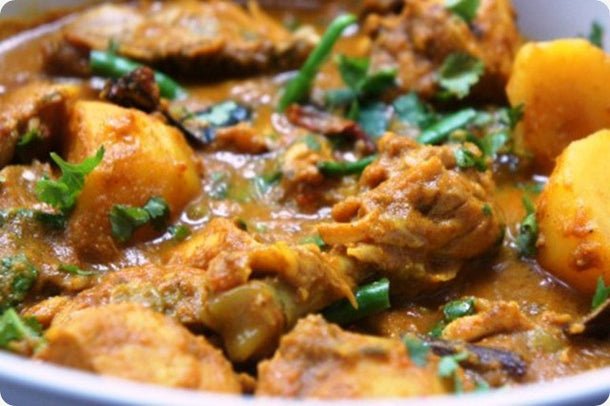 Misty Ricardo - Asian
Bengali Chicken Curry by Misty Ricardo's Curry Kitchen
A traditional style slow cooked on-the-bone Chicken curry, with keynote flavours of Bengali cuisine.  Such a meal is very often cooked and eaten behind the scenes by the Bengali staff at British Indian restaurants, and often called a 'Staff Curry'.  
Ingredients
Serves 2-3. All spoon measurements are level, unless otherwise specified.
100ml Oil or Ghee (or a combination. Ghee gives a richer flavour)
4 Medium Large Asian Bay Leaves (Tej Patta). European bay leaves may  be used instead, but they have a very different flavour
2 Pieces of Cassia Bark, approx 10cm long
6 Green Cardamom Pods, split open, or just use the seeds inside
2 tsp Panch Phoran (Bengali 5 spice seed mix)
300g Onion, chopped (approx 3 medium ones)
20g Garlic Cloves, minced or very finely chopped (about 6 cloves)
10g Ginger, also minced or finely chopped
Chicken pieces, skinless, but on-the-bone. I use 4 chicken legs, totally about 900g
1 tsp Cumin Seeds
2 tsp Coriander Powder (freshly ground from seeds)
2 tsp Turmeric
2 tsp Paprika (not smoked)
0.5 tsp Garam Masala
2 tsp dried Methi leaves

Half tsp

 Chilli Powder
2 tsp Salt
1 Tin of Chopped/Plum Tomatoes (400g), or 3 TBSP of Tomato Puree (double concentrated, good quality)
4-6 TBSP of Finely chopped Fresh Coriander Stalks
200g Potato, peeled and diced into small cubes (approx 1 medium one)
Any other Vegetables e.g. Aubergine, Carrot, Squash, Pepper (Optional)
4-6 Fresh Thin Green Chillies (Chopped, Optional)
150-250ml Water
Method
Add the 100ml Oil/Ghee to a large pan (I suggest 5L minimum capacity), on low-medium heat.
Add the Asian Bay Leaves, Cassia Bark, and Cardamom Pods, stir into the oil for 30 seconds. Then add the Panch Phoran Seeds, and stir until the Mustard seeds within start popping.
Add 300g chopped Onion. Cook, stirring frequently, until the onions melt. Be patient this may take up to 30 minutes. When the the onions start to stick to the bottom of the pan, add a little water and de-glaze the surface. Repeat this process as often as needed until the onions are cooked out.
Add 20g Minced Garlic and 10g Minced Ginger, and cook for a further 5 minutes, stirring frequently.
Add the Chicken Pieces, turn up the heat to Medium High, and cook for 5 minutes until the chicken is lightly brown. Stir occasionally.
Add 2 tsp Methi, 1 tsp Cumin Seeds, 2 tsp Coriander Powder, 1 tsp Chilli Powder (Optional) , 2 tsp Turmeric, 2 tsp Paprika, 5 tsp Garam Masala, 2 tsp Salt, and 4-6 TBSP Fresh Coriander Stalks.  Mix well, and cook for a few minutes.
Now add the Tinned Tomato or Tomato Purée. If you are using Purée, also add 150-250ml Water. The Tinned Tomatoes already contain enough liquid.
Add the Potato cubes.
Add 4-6 Green Chillies, and/or other Vegetables (Optional)
Mix well, and cook on a low heat for 30-45 minutes, stirring occasionally to prevent burning. No additional liquid should be necessary. The Chicken will release a surprising amount of water while cooking.
Taste and add extra salt and/or sugar to taste.
Check that the chicken is cooked properly (no pink bits inside the meat), and cook for further time if required.
Add a handful of chopped Fresh Coriander.
Add a big knob (e.g. 1.5 TBSP) of Butter Ghee, for extra flavour and richness (Optional).
Notes
All spoon measurements are level unless otherwise specified. i.e. 1 tsp = 5ml , 1 TBSP = 15ml.
Video of me making this... https://www.youtube.com/watch?v=BzhKuE3Lqjs
Misty Ricardo's Curry Kitchen YouTube Channel... https://www.youtube.com/channel/UCyxfA87wXcZ-Ky_JCJVr9yw