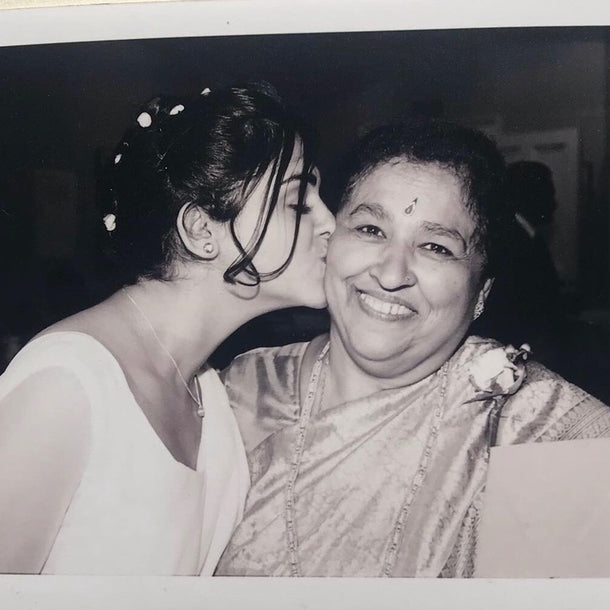 Asian
The perfect tribute
Posted on: Feb 10, 2021
Reena's mum owned a sari for every occasion. So when she died suddenly, Reena knew she wanted to do something special to honour the garments and her mum's memory.

"Losing mum devastated my family and me. Mum was so vibrant and full of life. She loved family, and in particular, she always loved to cook and bring people together. She was famous for her masala stuffed aubergine and potato curry.

After she died, it took me a very long time to be able to face clearing out her belongings. I knew it would be a difficult job, to go through her wardrobe, deciding what to keep and what to let go of, but one thing that worried me the most was what to do about her saris.

Mum had hundreds of saris, formal ones for weddings and others that were gorgeously embroidered and great for family gatherings. She also had saris that were great for everyday use. I really was at a loss as to what to do with them all. The saris were too lovely to give up, but I knew that I wouldn't wear them and that they would end up in a wardrobe or the loft.


It was around this time that I saw a Facebook post from Sanjay. He asked whether anyone had any saris that they would like to donate to his small family business, Spice Kitchen. Spice Kitchen was recycling old saris and using them to wrap their spice tins. From the moment I saw the tins on the website and read more about Sanjay's business, I just knew this was what I needed to do. The tins were beautiful, and everything about the company made me feel connected to them. Mum's saris would be recycled and given a new lease of life. It was perfect. 
I made contact and explained the situation. Sanjay was so lovely and so grateful, and he asked me to pick out my favourite of mum's saris. Before sending them off, I also kept a few back for myself. I saved a couple for my daughters, who I knew would love to have one to remember their grandma by and even wear when they were old enough. 
A couple of weeks later, I was overwhelmed when I received an Indian Spice tin in the post wrapped in my favourite sari. Sanjay has specifically arranged for my favourite sari to be sewed and wrapped around a traditional Masala Dabba. 


It was such an incredible moment and so deeply touching to see the sari be re-purposed in this way. What's more, I love that there are homes across the world that now have tins and think it is such an amazing way to use the beautiful material and such a credit to mum's memory. She would have loved it, particularly the link with cooking and family, which I know is key to Sanjay's work. 
I love how this all came about so organically, with Sanjay's post popping up on my timeline at just the right moment. Everything was handled so sensitively too. I've since met Sanjay and his mum at a food market, and it felt like we had a special connection, like we've known one another for years. The whole experience has just helped me with the healing process after losing mum, and I'm really grateful we met. 
And of course, the tin and sari has a prominent place in my kitchen and will do for as long as I live".