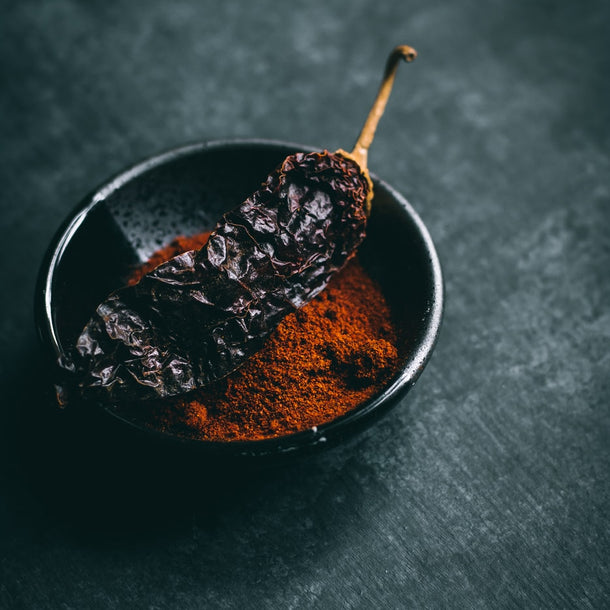 Deggi Mirch
Posted on: Jan 27, 2021
Deggi Mirch is currently enjoying its moment in the sun, thanks – in part – to cult restaurant Dishoom featuring this much-loved spice in their famous cookbook of the same name.
 But more on that in a moment. First things first…
 What is Deggi Mirch?
Deggi Mirch is essentially a traditional blend of Kashmiri Chillies and red capsicum bell peppers. It's gorgeously rich and will bring beautiful colourful notes to your dishes. Recipes that use Deggi Mirch benefit from its glowing red tones and quite often, this spice blend is used specifically for its colour more than its heat!
When to use Deggi Mirch?
If you love your curries full of flavour but not overly spicy, then you may wish to consider using Deggi instead of your regular chilli powder. Your dishes will benefit from flavourful warmth, colour and that gorgeous red flavour mentioned earlier, without risking that blow-your-head-off type experience. It's all down to you and your families' preference when it comes to their love of spice, so just experiment and add a little at a time until the heat feels right.
Here's what Chef Naved at the beloved Dishoom has to say about his use of Deggi Mirch in the restaurant kitchen…
"Deggi Mirch is a favourite in the Dishoom kitchen. Milder than a regular chilli powder, Deggi Mirch is medium-hot with a vibrant red hue, thanks to Kashmiri chillies. For me, it's a store cupboard must-have, and nothing quite matches it for the colour it imparts.
You'll find it in many of Dishoom's signature masalas and will see a sprinkling of it in very many of our most-loved dishes. Its gentle heat and vibrant hue make it excellent seasoning for everything from savoury snacks like Chaat, Samosas and Okra Fries, to much-loved curries (including House Black Daal and Chicken Ruby), as well as biryanis, grills, and much more. It is an invaluable addition to your at-home spice cupboard."
In addition to Chef Naved's suggestions, Deggi Mirch is great for use in soups, stews, curries and other traditional dishes. And here at Spice Kitchen, we love it as a substitute for regular chilli powder when we make a chicken biryani.
Is Deggi Mirch the same as Kashmiri?
Mamma Spice has always said that if for any reason you have ran out or can't find Kashmiri Chilli powder, then you can quite happily replace it with Deggi Mirch.
And if it's good enough for Mamma Spice…
How spicy is Deggi Mirch?
You're looking at a slightly higher heat level than, say, Kashmiri Chilli or regular Paprika, although in terms of the spectrum of heat offered by different chilli powders, it's still relatively mild.
But don't be fooled! Deggi Mirch – although offering mild heat – will definitely not let you down in the flavour department.
What is a good alternative for Deggi Mirch?  
You can definitely opt for Kashmiri Chilli, particularly if you'd like to go even milder with your level of spice. You could also try a small amount of Hot Paprika.
Want to receive regular news and spice-related updates direct to your inbox? Sign up to our newsletter and you'll be the first to hear about all things spice.