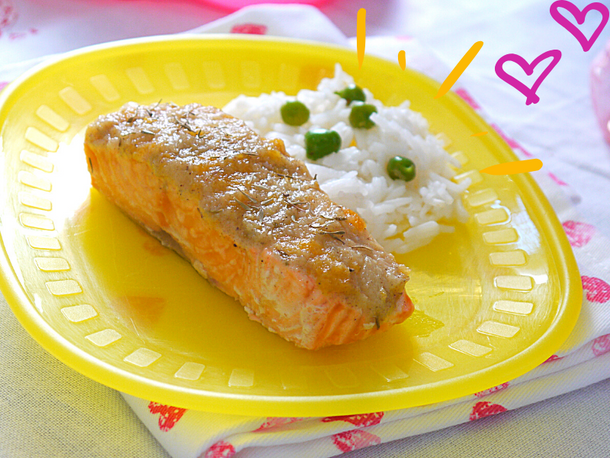 TROPICAL JERK SALMON BY ZAINAB JAGOT AHMED
Offer this from 10 months+. Salmon is an oily fish rich in Omega-3 fatty acids, vitamin B12, vitamin D and protein. So getting some yummy salmon into your little one's diet is a must! The juicy pineapple is rich in vitamin C and adds a mild sweetness to the dish, along with the dried apricot.
Stage 3 weaning – 10+ months
Total prep & cooking time: 20–22 mins
Makes 2–3 servings
Ingredients
1 tsp olive oil
¼ tsp Baby Spice Kitchen Caribbean blend
¼ tsp minced ginger
¼ tsp minced garlic
20g tinned pineapple – drained, crushed
½ dried apricot, roughly chopped
1 x 110g boneless salmon fillet
Method
Preheat the oven to 200°C/400°F/gas mark 6.
Place the oil, Baby Spice Kitchen Caribbean blend, ginger, garlic, pineapple and apricot in a food processor or blender and blend until smooth. Spread the marinade over the salmon fillet and place the fillet on a long piece of foil. Create a foil parcel by lifting the edges of the foil upwards to the middle to create a point and fold the top edge. Then fold the sides to seal the edges. You want to do this to keep the steam inside the parcel.
Place the foil parcel on a baking tray and place the tray on the middle shelf of the oven to cook for 15–18 minutes, until flaky and tender. Remove from the oven and allow to stand for a few minutes, then unwrap the parcel and allow the salmon to cool. Serve to baby in small mashed, bite-size chunks, ensuring you have removed the skin. For babies with larger appetites, or for toddlers, serve alongside basmati rice and freshly steamed peas.
Recipe adapted from The Flavour-led Weaning Cookbook by Zainab Jagot Ahmed (Ebury Press, £14.99). Photography by Zainab Jagot Ahmed.
Biography: Zainab Jagot Ahmed
Zainab Jagot Ahmed is the UK's flavour-led weaning expert and mum of one food-loving little girl. Following the success of her daughter's weaning journey, Zainab realised she could help other mums raise adventurous eaters too and devised recipes and meal plans anyone can use.
Zainab writes for a number of leading parenting titles and appeared as expert speaker at The Baby Show, the UK's leading pregnancy and parenting event. She is author of two award-winning weaning and family cookbooks - Easy Indian Super Meals and The Flavour-led Weaning Cookbook published by Ebury Press.
Zainab can be found blogging recipes on her website www.ZainabJagotAhmed.com, and positing on her social networks Instagram/ Facebook @zainabjagotahmed
Books by Zainab
Easy Indian Super Meals for Babies, Toddlers and the Family