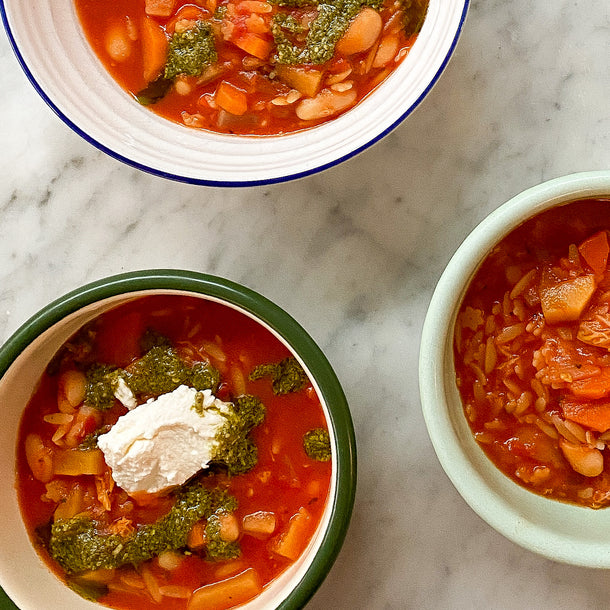 Minestrone Soup by Little Veggie Eats
This is a great one for using up any bits of sad veg in the fridge- I mix it up so don't take the vegetable ingredients listed as gospel - use what you have! The Baby Spice Italian blend really brings the dish alive.
Pasta in soup is pretty good at tempting smalls, but if the pasta doesn't do it- toppings are your answer.
INGREDIENTS 
1 onion finely chopped

2 ribs of celery finely chopped

2 large carrots finely chopped

1/3 swede peeled and finely chopped (any root veg works!)

2 cloves garlic crushed

1 x can cannellini beans (plus liquid)

2x cans good quality chopped tomatoes

400ml veggie stock (use low salt if cooking for babies/young toddlers)

1/4 head cabbage finely shredded (or use kale or spinach)

1 tsp Spice Kitchen Italian blend

2 bay leaves

Few sprigs of fresh thyme

½ cup orzo

Optional toppings: pesto, ricotta, creme fraiche, lemon
METHOD
Fry the onion in olive oil for about 5 mins. Add the celery and carrots and cook for several more mins. Then add the swede and garlic and cook for a few more mins.

Add everything else except the orzo. On a hob bring the soup to the boil and simmer for 30 mins until the veg is soft. If you are using a pressure cooker, cook at high pressure for 7 mins.

When the vegetables are soft add the orzo and simmer until it's cooked (5-10mins). You might need to add more water/stock if it's looking a bit too thick. Season with salt & pepper to taste. Top with pesto (thinned out with extra olive oil) and/or ricotta cheese (or plant based creme fraiche) or a squeeze of lemon.
Rachel Boyett, mother of three and life-time vegetarian, is a firm believer in one meal for all the family. She posts her family friendly veggie and vegan recipes on her Instagram @littleveggieeats.
Her first book, Little Veggie Eats: Easy Weaning Recipes For All the Family to Enjoy (Vermilion, £14.99)  was published in March 2020