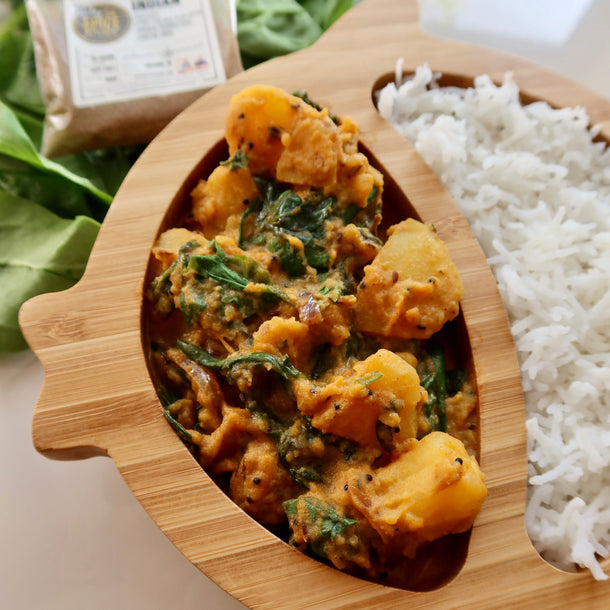 Saag Aloo is a simple spinach & potato curry. It is the most comforting, fragrant and flavour packed dish for any age. Perfect as a side dish or a meal with rice.
INGREDIENTS
4–5 medium potatoes, cubed
1 white onion, sliced
300g baby spinach, roughly chopped 5 garlic cloves, minced
2cm piece ginger, grated
1 tsp green chilli paste (optional)
1 tbsp tomato purée
2 tsp cumin seeds
2 tsp mustard seeds
2 tsp Baby Spice Kitchen Indian blend
1 tsp red chilli powder (optional)
1/2 tsp ground turmeric
Rapeseed oil
METHOD
Par boil the potatoes until they just start to soften. Drain and allow to sit in the steam.
Heat oil in non-stick pan and add cumin and mustard seeds. Once they begin to pop, reduce heat to low and add onions (take care as they may splutter).
Sauté onions until translucent and then add tomato purée, garlic, ginger and chilli paste (if using). Cook for a minute.
Add turmeric, Baby Spice Kitchen Indian blend and chilli powder (if using).
Cook for a further minute.
Add potatoes and toss to coat along with 1 cup boiling water and half the spinach.
Allow to simmer on medium heat until potatoes are cooked. Add more water if needed.
Once potatoes are cooked, add the remaining spinach, stir, cover and remove from heat.
Serve warm with rice.