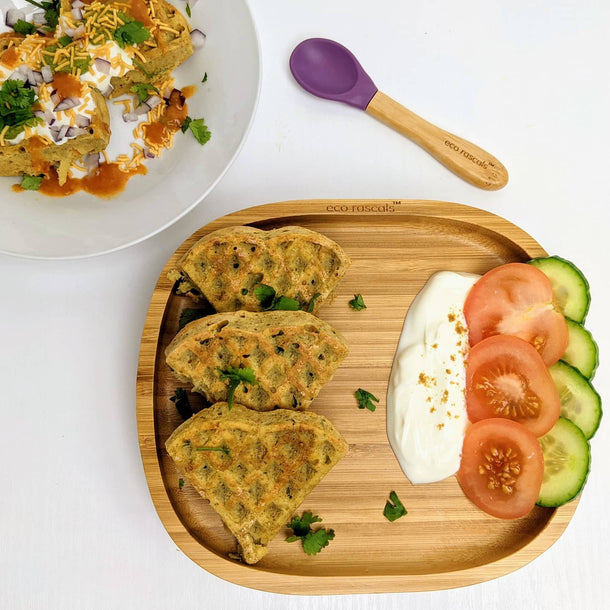 Asian
Indian Spiced Savoury Waffles by Ani Cooks
These were a bit of an experiment but they turned out delicious! I used the Spice Kitchen Indian baby spice for this recipe and it was perfect balance of spice for my little man! 
These tasted like pakoras but a lot healthier as they are baked ! I packed them full of veggies - potato, onion carrots & spinach! 
INGREDIENTS
2 small potatoes
1 small carrot 
1/2 red onion 
Small handful of fresh spinach finely chopped
1 teaspoon of @spicekitchenuk baby Indian spice 
1 cup gram flour 
1 tablespoon of rice flour 
1 teaspoon of lemon juice 
1/2 cup of water 
1/2 teaspoon baking powder 
1/4 teaspoon bicarbonate soda
METHOD
Pre heat oven to 180 degrees
Grated the potatoes, onion, carrots and place in a bowl with the lemon juice. Add the spinach, Indian spice mix, gram flour and rice flour and mix together. 
Slowly add in the water. You should get a thick but pourable consistency. 
Mix together and then add the baking powder and bicarbonate and mix again.
Grease a waffle mould and pour in the mixture. 
Bake for about 15-20 mins until cooked through.
@ani__cooks does the most incredible baby recipes-you've just got to follow her!