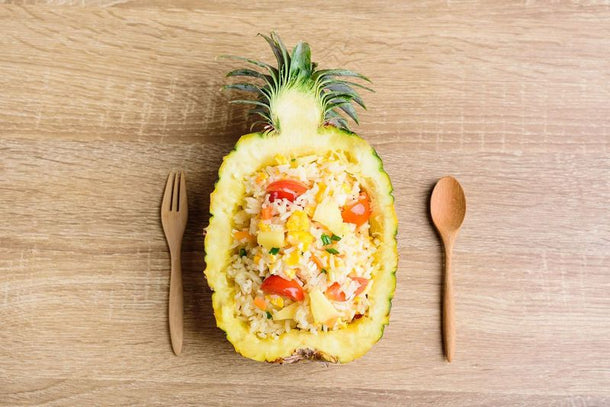 Bring the taste of the Caribbean into your home. This savoury rice recipe is packed with lots of colourful flavours and provides plenty of vegetable goodness. Add the pineapple for an extra nutritional boost.
INGREDIENTS
1 teaspoon of rapeseed oil
1 spring onion chopped
1/2 tsp of Baby Spice Kitchen Caribbean blend 1/4 tsp of turmeric
60g rice (uncooked weight)
30g frozen peas
30g frozen sweetcorn
1 pineapple ring (optional)
METHOD
Cook rice according to instructions and set aside.
Heat a pan of water and boil peas and sweetcorn for about 7–10 minutes. Drain and rinse under cold water and set aside.
In a frying pan heat oil and then add the spring onions. Cook for a few minutes until slightly soft. Next, add the peas, sweetcorn, turmeric and Baby Spice Kitchen Caribbean blend.
Meanwhile, grill the pineapple for about a minute on each side.
Mix everything together and allow to cook for a further minute. Finally, add the cooked rice and give everything another good mix.
Serve warm with the grilled pineapple.