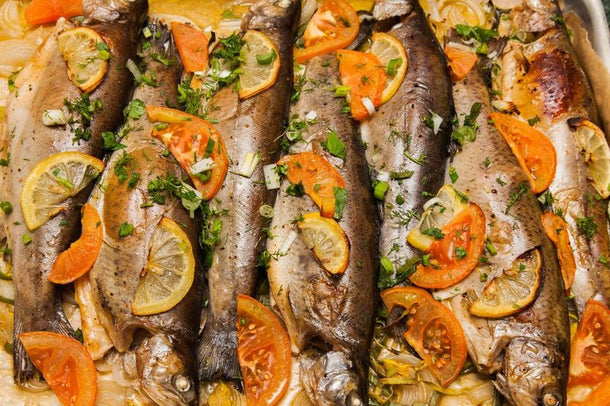 Spice Kitchen - Asian
Baked Trout with Baharat, Tomato and Lemon
This easy baked trout recipe always goes down a storm in our house! Keeping the fish whole means it retains its moisture and ensures it cooks to perfection.
INGREDIENTS
1 whole trout, gutted,scaled and cleaned
1 tsp salt
1 tbsp Berbere spice mix
1 tbsp olive oil
1 tomato, sliced
1 lemon, sliced
1 tsp salt
Salad
1 red onion, finely sliced
3 tbsp black olives, sliced
1 medium cucumber, sliced
1 tomato, sliced
1 tbsp cider vinegar
1 tbsp olive oil
Salt, to taste
METHOD
Clean the trout well, wash and pat dry with a kitchen towel. Score on both sides and rubwith salt. Mix the berbere spice mix with the olive oil and smear all over and inside the trout.
Place slices of tomato and lemon inside and over the top of the trout. Wrap the trout in foil loosely, creating an envelope and sealing the open edges, and put into the fridge for a couple of hours.
Preheat oven to 220°c. Place the trout 'envelope' on a baking tray and into the oven for 15 minutes. After 15 minutes, open the foil out and cook for another 5 minutes.
For the salad, mix all the ingredients and just before serving, combine the olive oil and cider vinegar. Drizzle over generously and season to your liking. Serve the trout and salad with a chilled glass of wine.