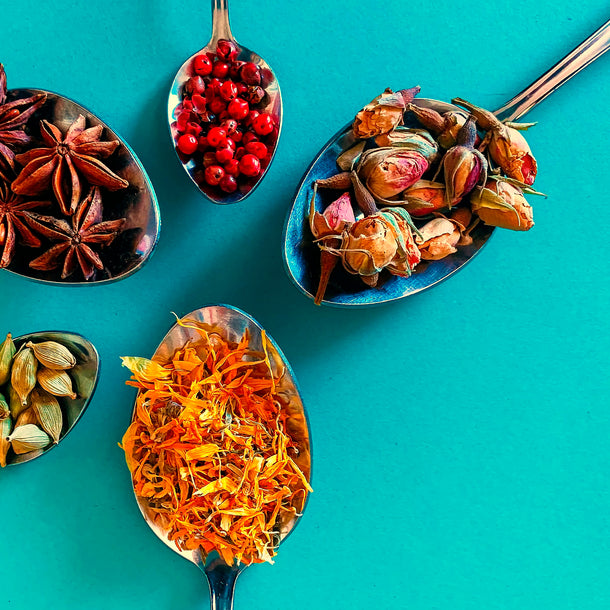 Gin Botanicals Collection – How To Use
Posted on: Dec 7, 2022
Our Gin Botanicals Collection is perfect for any gin lover who wants to experiment with different flavour combinations. But how to use them? 
We invite you to take your gin cocktails to the next level! 
Make your own bespoke gin cocktails. Our carefully selected botanicals will:
Infuse your gin with world flavours 
Create stunning drinks
Add beautiful aromatics 
Gin infusions 
From a 700ml bottle of vodka, separate 100ml into a separate air-tight container.
Add your chosen botanicals into a 700ml bottle of vodka, give it a good shake, and leave to infuse for 3 days. 
After 3 days, strain.  
The compound (as is the case with many spirits) is best served cold, so keep it in the fridge before serving.
Your botanicals as a garnish 
For a delicate but tasty addition to your favourite cocktail or gin and tonic, simply add your chosen botanicals to your drink. You'll notice a beautiful aroma, a slight change to the colour of your drink and some gorgeously complex flavour tones. 
It's so easy! Simply select the botanicals you want to taste, add them to your gin and tonic or gin cocktail. Results are best with London Dry Gin or an 'own label' brand.
Your botanicals as beautiful ice cubes 
Create stunning botanical ice cubes that will impress your friends time and again. Simply sprinkle a few of your chosen botanicals into individual ice cube trays and then top up with water.  Pop into the freezer until you are ready to use. The botanicals will release some of their colour into the cubes as they freeze and so you will end up with varied results every time! 
Nerdy facts and info
WHAT EVEN IS GIN?
Gin is a distilled alcoholic drink that gets its flavour from juniper berries. In fact, gin's predominant flavour must come from this berry; otherwise, legally, the drink can't be called gin at all!
Compound gin (which this guide will teach you how to make) is pretty simple to make at home. Essentially, botanicals (including juniper) are added to a neutral base spirit (in our case, Vodka) and are left for several days to infuse with flavour. This makes it super simple to make your own gin at home.
Just so's you know, Compound Gin is sometimes referred to as 'bathtub gin', which is a nod to the concoctions made illegally in homes during American Prohibition in the 1920s.
TELL ME MORE!
OK, so the word 'gin' derives from the Dutch word 'jenever' which, you guessed it, means juniper, and, after oodles of research into the matter, we've come to the conclusion that gin started in the Middle Ages in the Netherlands.
Throughout this period in history, it was believed that juniper could help ward off diseases, such as the Black Death. Unfortunately, after millions died of this, the myth was busted, and people started drinking gin because it tasted amazing and got them drunk rather than for its medicinal benefits.
Which is pretty much what we do right to the present day.